Parking update
Free valet parking is available at the Eye Center, Cancer Pavilion, and Emergency entrance, from 6 a.m. to 6 p.m. Monday – Friday. No tipping required.
Top medical professionals, superior medicine and progressive change make UCHealth University of Colorado Hospital in metro Denver (UCH) one of the leading hospitals in the nation.
Our hospital, a partner institution in the UCHealth system, includes primary care and specialty clinics around the state, as well as our central facilities at the Anschutz Medical Campus.
The region's only academic hospital
Academic hospitals tend to be the first in their regions – and often in the nation – to bring new treatments to the bedside. The providers at University of Colorado Hospital are also faculty members at the University of Colorado School of Medicine, one of the premier academic research institutions in the country. University of Colorado Hospital provides the full spectrum of patient care, from family medicine to a comprehensive array of subspecialty clinics and programs.
Ranked #1 in Colorado and nationally ranked in 5 specialties
We are proud to have been designated the #1 hospital in Colorado in 2022-23 by U.S. News & World Report. This recognition is a testament to the quality care we deliver every day, as well as our commitment to putting patients first. This is UCH's 11th year being ranked as No. 1 in the state.
University of Colorado Hospital is also ranked among the nation's best in 5 specialties, including our national #2 ranking in Pulmonology & Lung Surgery.
Learn more about our 5 nationally-ranked specialties:
UCH is also rated as high performing in cancer, geriatrics, neurology, orthopedics and urology.

Buildings with clinics and services that make up University of Colorado Hospital
Anschutz Inpatient Pavilion (AIP)
Adult Genetics Clinic
Burn and Frostbite Center
Executive Health Services
Garden View Cafe
Home Dialysis Clinic
Just for U Gift Shop
Neonatal Intensive Care Unit
Pain Management Clinic
Palliative Care
Radiology
Spine Center
Thinking of U Flower Shop
University of Colorado Atrium Pharmacy
Women's Care Center
Anschutz Inpatient Pavilion 2 (AIP 2)
Adult Congenital Heart Disease
Cardiac Electrophysiology
Emergency Care
Heart and Vascular Center
Heart Failure Clinic
Pulmonary Vascular Disease Clinic
Rehabilitation Unit
Structural Heart and Valve Clinic
Trauma Center
Vascular Surgery
Anschutz Outpatient Pavilion (AOP)
Allergy and Immunology Clinic
Center for Midwifery
Chronic Kidney Disease Clinic
Concussion Multidisciplinary Clinic
Courtyard Cafe
Crohn's and Colitis Center
Diabetes and Endocrinology Clinic
Diane O'Connor Thompson Breast Center
Digestive Health Center
Ear, Nose and Throat Clinic
Facial Nerve Center
Gamma Knife Center
Glomerular Diseases Clinic
Hand Clinic
Head and Neck Specialists
Hearing and Balance Clinic
Hepatology Clinic
Hereditary Cancer Clinic
Infectious Disease/Travel (TEAM) Clinic
Internal Medicine
Interstitial Lung Disease Clinic
Kidney Disease and Hypertension Clinic
Laboratory
Maternal Fetal Medicine Clinic
Midwifery Clinic
Neurosciences Center
Orthopedics Clinic
Outpatient Infusion Clinic
Outpatient Pavilion Pharmacy
Patient Resource Center
Physical Therapy and Rehabilitation Clinic
Plastic and Reconstructive Surgery Clinic
Podiatry Clinic
Polycystic Kidney Disease Clinic
Prenatal Diagnosis and Genetics Clinic
Pulmonology Clinic
Radiology
Rheumatology Clinic
Seniors Clinic
Sinus Center
Sleep Medicine Clinic
Surgical Clinic
Surgical Weight Loss Center
Toxicology Clinic
Transplant Center
Unique Boutique Gift Shop
University of Colorado Hospital Pharmacy – IDGP
Urogynecology Clinic
Urology Clinic
Women's Care Clinic
Women's Integrated Services in Health
Wound and Ostomy Care Clinic
Anschutz Cancer Pavilion
Adrenal Cancer and Tumor Program
Blood Disorders and Cell Therapies Center
Bone Cancer Clinic
Bone Marrow Transplant Clinic
Brain and Spine Tumor Multidisciplinary Clinic
Cancer Resource Center
Clinical Assessment and Rapid Evaluation (CARE) Clinic
Dermatology Clinic
Esophagus and Gastric Cancer Multidisciplinary Clinic
Gynecologic Oncology Clinic
Hematology Clinic
Lung Cancer Clinic
Neuroendocrine Tumor Center
Palliative Care
Pancreas and Biliary Center
Pancreas and Biliary Multidisciplinary Clinic
Pancreas Cyst Multidisciplinary Clinic
Pulmonary Nodule Clinic
Radiation Oncology
Thoracic Surgery
Tony Grampsas Urologic Cancer Care Clinic
University of Colorado Cancer Center
Sue Anschutz-Rogers Eye Center
Sue Anschutz-Rogers Eye Center
My Health Connection
Events and classes
     Billing     
Patients and visitors
Care management
The Care Management team consists of Nurse Care Managers, Social Workers and Care Coordinators.  Our primary goal is to partner with you, your support person and your health care team to develop a discharge plan that will meet your ongoing care needs when you are ready to leave the hospital.
Complaints and grievances
University of Colorado Hospital's (UCH) Office of Patient Representatives is available to assist you.
The patient representative:
Serves as a liaison between patients, families, hospital and medical staff
Advocates for patients' rights
Promotes patient satisfaction
Serves as point of contact for organization-wide complaints and grievances
Provides feedback from the patient to the organization to continually improve the patient experience
(For billing issues, please contact the University of Colorado Hospital Patient Accounts department at 720.553.1700.)
You or your representative may submit a concern or complaint, verbally or in writing, to the UCH Patient Representative. The Patient Representative may be reached at 720.848.5277 from 8:00 a.m. to 4:30 p.m., Monday through Friday. On weekends or after hours, you may call the hospital operator at 720.848.0000 and ask for the hospital manager. You may contact the Patient Representative in writing at:
Patient Representative
University of Colorado Hospital
12401 E 17th Avenue, C-300
Aurora, CO 80045
Emergency Medical Services (EMS)
UCHealth EMS combines the latest technology and innovation to provide:
911 emergency ambulance services
interfacility transportation
critical care ground transport services
air medical operations
event medicine services
community paramedics
Food services
Garden View Cafe located on the first floor, University of Colorado Hospital
Everyday 6:30 a.m. – 1 a.m.
Courtyard Cafe located on the first floor, Anschutz Outpatient Pavilion
Monday – Friday 7 a.m. – 2 p.m.
Dazbog Coffee Kiosk
Everyday 6 a.m. – 5 p.m.
Inpatient Food Services
The Food and Nutrition Services group at University of Colorado Hospital prepares fresh, delicious dishes for all our patients. We use healthy, fresh ingredients.  We believe good food helps heal you.
We use fresh Colorado chicken, not frozen. Our Mac-N-Cheese is made from scratch, just like Moms. All our soups are homemade, flavorful and satisfying. Our mashed potatoes don't come from a box. They're real, just like our chefs.
We think that patients are happier when they can eat tastier, healthier food. Order "Room Service" from our new inpatient menu and see if you agree.
Gift shops
UCHealth University of Colorado Hospital has three gift shops including:
Just for U Gift Shop
Thinking of you Flower Shop
Unique Boutique
Visit the UCHealth University of Colorado Hospital Gift Shops page for information regarding hours of operation, products sold, contact information and more.
Interpretation and translation services
Interpreting services
Translators or interpreters, including qualified American Sign-Language interpreters, are available to all of our patients. Requests can be made by patients, their families or hospital employees by calling 720.848.1018. For some languages, advance notice is helpful.
Translation services
Language translators are available 24 hours a day, seven days a week. We also have services to accommodate the hearing and visually impaired. If you wish to use any of our translation services, please try to notify us in advance of the service you need.
University of Colorado Hospital provides:
Free aids and services to people with disabilities to communicate effectively with us, such as:

Qualified sign language interpreters
Written information in alternative formats (large print, audio, accessible electronic formats, and other formats)

Free language services to people whose primary language is not English

Qualified interpreters
Information written in other languages
Medical records
Visit My Health Connection to view your latest medical records online.
You may so request a printed copy of your medical records. UCHealth is required by law to obtain your written permission before releasing any copies. If you desire to receive a copy of your medical records.
Complete the Request for Medical Records form to make your pick-up request.
Parking
See "Parking at UCH and Anschutz" below.
Patient Resource Center
The Patient Resource Center, located near the entrance of the Anschutz Outpatient Pavilion, has a wide variety of scientifically based medical information and resources. Our trained volunteers can help you:
Locate current and reliable information on diseases, conditions and treatments in books and on the Internet
Develop a better partnership with your medical team
Make informed choices about your health
The Patient Resource Center is open to patients, loved ones, friends or community members.
Patient rights
Privacy (HIPAA) and your information
At your request we keep information about your hospital stay private and confidential, as required by federal law (the Health Insurance Portability and Accountability Act, or HIPAA).
One way we maintain your privacy is to set up a special password at your request. You tell us this password, which you may share with friends and family so they can find out how you're doing. When callers give us your password, we can update them on your progress. If callers don't know the password, we cannot tell them anything about your condition.
We'll write your password on a note card for you to keep.
Advance directives and living wills
We can help you complete a Living Will or other advance directive at your pre-admission appointment. These legal documents spell out the care you want — or don't want — in case you cannot make your own decisions and communicate them to us.
Preparing for your stay
What to expect when you arrive
At University of Colorado Hospital, patients and families are our partners in health.
While you are at the hospital, "speak up" and let us know:
What you think
If you are worried about anything
What you may need
Our hospital is designed with you and your family in mind. While your hospital stay may not be easy for you, we intend to offer the very best care, emotional support and education throughout your time with us.
What to bring
A list of your current medications
A few personal belongings
Clothes to wear when you go home from the hospital
What not to bring
Items of great value to you
Your room at University of Colorado Hospital
Designed for your privacy
Bedside controls for lighting, television and calling a nurse
Wireless internet access from your personal device
Going home
We want you to be fully prepared for going home. We will let you know an approximate date for discharge when you are admitted. If we don't share that with you, please ask us.
Security
University of Colorado Hospital takes great measures to make sure the Anschutz Medical Campus is safe.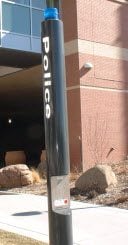 A security patrol monitors the parking lots and buildings 24 hours a day, seven days a week.
Parking lots are well lit.
Escorts are available to walk you to your car.
Our Birth Center has a special security system.
Security in parking areas
Each parking lot has ample lighting to ensure optimum visibility when walking to and from your car.
Emergency "Blue" phones are located throughout parking lots and garages, as well as along all pedestrian walkways (pictured).
Security also provides a variety of support activities for staff, patients and visitors including:

Escorts to and from personal vehicles
Recharging dead vehicle batteries
Assistance in contacting services related to keys locked in the car, flat tires and disabled automobiles

Security staff patrols all parking lots, garages and pedestrian walkways on a scheduled routine basis.
All parking lots are monitored 24/7 by security camera systems.
The security staff
On-site security is present at the Anschutz Medical Campus 24/7.
A minimum of two security personnel staff the Emergency Department at all times.
Security personnel stay in constant contact with the call center and have a direct connection to campus police and area law enforcement.
The 24-hour call center keeps a constant watch on exterior and interior activities.
Security officers also staff the main patient visitor entrances throughout the day.
Security services
For an escort to your vehicle
Our security staff will escort employees and visitors to their vehicle after dark.
To request an escort, please call extension 8-7777.
Emergencies
In case of an emergency, dial 911. This will connect you to the Hospital Shared Services Emergency dispatchers
Send a letter or package to a patient at UCH
Mailing address:
12605 E. 16th Avenue
Patient: (patient name), Room # (if available)
c/o University of Colorado Hospital
Aurora, CO 80045
Service animals
Service animals are allowed at UCHealth University of Colorado Hospital. Only dogs and miniature horses as defined in the UCHealth Service Animals policy are considered service animals. No other species is allowed on the premises of UCHealth and affiliated offsite locations.
Smoke & tobacco free campus
Smoking and tobacco products of any kind are not permitted anywhere inside or on the grounds of University of Colorado Hospital and Anschutz Medical Campus.
Smoking products include any cigar, cigarette, pipes, or any smoking device or substance which is lighted and inhaled. This includes E-cigarettes.
Tobacco products include cigars, cigarettes, pipes, chewing tobacco, or snuff.
Spiritual care
Spiritual care services are available to support you, your family and those close to you as you find and use strength within your personal system of faith, culture and belief.
We are here to support you spiritually and emotionally with a listening and accepting presence. A chaplain is available 24 hours a day, every day.
Spiritual care services offered
Prayer
Sacraments
Other religious rituals as you request
Contact a member of your faith group as you request
To request a visit from one of our chaplains, please ask your nurse or doctor or call 720-848.4063.
Worship, prayer and meditation
Chapel
The Chapel, located on the first floor of the Anschutz Inpatient Pavilion between the main entrance and guest elevators, is open and available 24 hours a day, 7 days a week. There is no lock on the chapel door.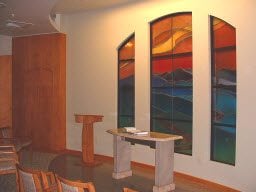 This chapel is open to:
University of Colorado Hospital patients, their families and visitors
University of Colorado Hospital staff
Hospital affiliate staff members
Chapel space is not open to the general public.
Non-denominational chapel service
Wednesday mornings at 11 a.m.
Please contact Dustin Frye at 720-848-3036 or [email protected] for more information.
Requests to use the chapel
Patients and members of the Anschutz Medical Campus community may request to schedule the chapel for religious services such as:
Weddings
Memorials
Baptisms or religious rituals
Holy Day celebrations significant within their own faith group
For more information, contact Dustin Frye at 720-848-3036 or [email protected].
Please note that the University of Colorado Hospital chapel is not open for use by the general public or groups not associated with the hospital or its affiliates.
Transportation and lodging
RTD bus and Light Rail
Several Regional Transportation District (RTD) bus lines stop near or on the Anschutz Medical Campus.
Visit the RTD Website for more information.
RTD phone
303-299-6000
800-366-RIDE
Taxi information
Airport information
Airport Transportation
Lodging
The University of Colorado Hospital has many lodging options nearby to choose from. Some hotels offer a reduced patient/visitor rate, please check with the property before you book your reservation.

University of Colorado Hospital does not endorse any of the transportation or lodging organizations listed above. Discount information is subject to change.
Visitors
For the safety of our patients, visitors and staff:
Visitors to patients staying overnight (inpatients) or to the emergency department, are required to check in to receive a visitor badge. Visitor badges must be worn at all times.
Weapons policy
Weapons are not allowed at any UCHealth location. This includes firearms (guns) carried by people with conceal carry permits. Anyone who doesn't want to leave a weapon in their car should leave it at home.
WiFi
Internet access
UCHealth University of Colorado Hospital offers free internet access. Our network is UCH-Visitor.
Parking at UCH and Anschutz
**Colorado, Aurora and metro Denver are seeing an increase in automobile thefts, and the CU Anschutz Medical Campus is not immune from this. UCHealth and CU Police are sharing safety tips for anyone who parks on campus.
Parking for patients and visitors
---
Free valet parking is available at the Eye Center, Cancer Pavilion, and Emergency entrance – no tipping required.
---
We want to make sure you have enough time to comfortably park and arrive on time. Please plan on arriving at least 30 minutes before your scheduled appointment.
There are several ways for you to park on our campus. All options are free for patients and their visitors.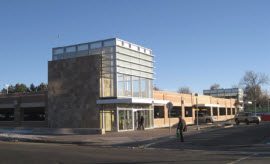 Use the free valet parking service. Our valet parking is the most convenient and easiest option. You can use the valet stations at the Eye Center, Cancer Pavilion, and Emergency entrance.
Self-park in one of our free lots. If you wish to park yourself, you may park in one of the designated patient/visitor lots in the front of the hospital. All patient/visitor parking lots are free. Follow signs to Lots 2, 4, 5 and 6, and Garages 2 and 3.
Parking/wayfinding map for UCH >
Parking/wayfinding map for UCH (español) >
UCHealth provides a free courtesy shuttle service to pick you up at your vehicle and transport you to the hospital. Call 720.848.1000 to request a shuttle. The service operates Monday through Friday, 8 a.m. to 5 p.m.
Use RTD. The RTD R-Line runs to the Fitzsimmons Rail Station. From there, you can take a free courtesy shuttle to Anschutz Medical Campus. This shuttle also picks up from the parking lots south of the Anschutz Inpatient Pavilion along East 16th Avenue. The service runs every 15 minutes from 7 a.m. to 4:30 p.m. Monday through Friday. Learn more here or download the free Campus Shuttle app on your smartphone.
Need a handicapped spot?
Lot 5 is a handicapped-parking only lot at the very front of Anschutz Inpatient Pavilion. You will also find handicapped parking in Garage 2, 3, and Lots 4 and 6 and the Eye Center lot (lot 1).
Remote care
Emergency Virtual Health
Emergency Virtual Health visits enable specialists to consult with local emergency room physicians via video conferencing to help with specific patient emergencies such as stroke or trauma.
UCHealth has a robust Telestroke program to help hospital ED physicians across the state of Colorado and southern Wyoming treat stroke patients in record time, saving every precious brain cell possible. Virtual Health allows neurology specialists to provide expert guidance to community hospital providers. These providers can now keep, and treat, many stroke patients they may not have been able to before.
If a patient needs more advanced care, we transport that patient to one of the country's best comprehensive stroke centers.
Virtual Urgent Care
Visit with a physician by video using your computer, tablet or smartphone in the convenience of your home, office or location that is convenient for you. No drive time, no waiting room, no need to get out of your pajamas (if you don't want to).
You'll be seen and treated by a UCHealth medical professional just as if you were to visit seen face-to-face in one of our many health care facilities.
Virtual Urgent Care visits are scheduled in My Health Connection, UCHealth's patient portal. Log in or Sign up now to schedule a Virtual Urgent Care visit.
For the best experience, download the UCHealth app today.
Types of illnesses treated in a Virtual Urgent Care visit:
Allergic reaction.
Cold/flu.
Cough.
Diarrhea.
Cuts and scrapes.
Pink eye.
Rash.
Sinus infection.
Sore throat.
Urinary tract infection.
Vomiting.
Insurance
Your Virtual Urgent Care visit may be covered by insurance. However, if your health plan denies this charge you will receive a bill for this service.
Many health plans are adding virtual visits (telehealth) as a covered benefit. However, there are some healthcare plans that do not cover virtual visits, such as Medicare.
For most insurance plans, we will attempt to bill your insurance- you may be responsible for your co-payment amount prior to seeing the doctor. However, if your health plan denies this charge you will receive a bill for this service. Also, please note that to bill medical insurance, a successful video connection must occur between the patient and the doctor.
Ways to give
University of Colorado Hospital Foundation
Your support helps us enhance and save lives
Extraordinary generosity is what helps us provide extraordinary care. UCHealth University of Colorado Hospital is a not-for-profit organization that depends on donations from individuals, families, corporations and foundations to ensure its continued excellence in patient care, education for health care professionals and research.
Help people live an extraordinary life by donating today: University of Colorado Hospital Foundation
Volunteering
Share your time and talents by volunteering at the University of Colorado Hospital. Make new friends, enjoy a change of pace, gain a new perspective, learn more about health care and, most important, help us improve lives.