Developing the future of medicine
Are you eligible?
Each year at UCHealth, thousands of people volunteer to participate in clinical trials. Review the "eligibility" guidelines for trials you're interested in to find out if you qualify as a candidate. Some trials offer payment; others provide free health exams and follow-up.
Advances in medicine come from new ideas developed through clinical research.
At UCHealth, we conduct hundreds of clinical trials (also called research trials or research studies) in our ongoing effort to discover and deliver more effective treatments.
Our goal is to translate discoveries made in the laboratory to the patients who will benefit from them, and to do it as quickly as possible.
Please review our current available clinical trials below, and call or email the contact person(s) listed for a trial to get a more thorough explanation of that study.
If you are a patient or referring physician, please note that not all patients will be eligible for all trials. Please either make an appointment to see one of our expert physicians or contact a faculty member directly.
Search for research trials
UCHealth is partnering with the CU School of Medicine to share clinical trials listings. This online directory is scheduled to go live in early 2017. In the meantime, please click the links below to see our clinical trials as they appear on ClinicalTrials.gov.
ClinicalTrials.gov: saved queries
Click on the "conditions" links in the table below to display UCHealth clinical trials, located at University of Colorado Hospital, on the ClinicalTrials.gov website.
Clinical trials at other UCHealth locations
About our cancer trials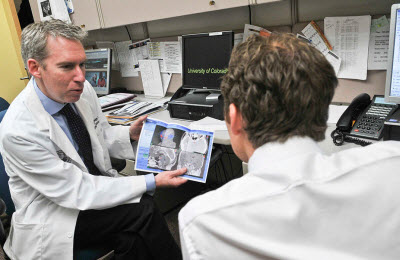 Some open trials relevant to a specific cancer may not appear under the given disease type, as they are being run in our general phase I program.
Trials are not listed until they open, so trials relevant to a particular cancer that are about to open are not yet shown.
Every patient will not be eligible for every trial.
The best treatment for a given patient at a given time may be within a clinical trial, but it may also be the expert use of any of several standard treatments.
We strongly recommend that patients make an appointment to see one of our expert physicians, or schedule a remote second opinion, to discuss all possible options.
If you have questions about one of the specific clinical trials listed, please call the contact person for that trial to learn more.
If you are a referring physician, please contact a faculty member directly.