Powered by CU Orthopedics.
Foot and ankle problems are much more than annoyances. Even the smallest ones can make you wince with every step. And anything chronic can throw your entire body out of kilter and make it a battle to get through the day.
We provide basic foot and ankle care and a range of specialized treatment. We treat and prevent recurrence of foot and ankle ailments by addressing the cause of the problem – not just the symptoms.
Conditions we treat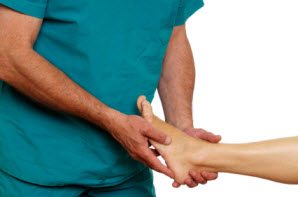 The UCHealth Podiatry Clinic at University of Colorado Hospital is staffed by three board-certified podiatrists who know how important it is that you can move around pain-free. At our clinic we effectively treat:
Ankle disorders
Ankle injuries
Foot disorders
Foot injuries
Toe problems
About your appointment
What to bring to your clinic appointment
Your photo ID (driver's license, passport, state or military ID are acceptable)
Your insurance card. If covered by a spouse's policy, know your spouse's date of birth and Social Security number
Past medical records related to your diagnosis
Pathology slides (if applicable)
Radiology films such as X-rays or CT scans, with reports (if applicable)
Radiation therapy records (if applicable)
Completed patient registration form
Questions for your doctor