Mission, vision, values
Our mission
We improve lives.
In big ways through learning, healing, and discovery.
In small, personal ways through human connection.
But in all ways, we improve lives.
Our vision
From health care to health.
Our values
Patients first
Integrity
Excellence
At UCHealth, we do things differently. We strive to promote individual and community health and leave no question unanswered along the way.
Our individual facilities propel us forward to improve and optimize health care. Among our Colorado Front Range facilities:
Poudre Valley Hospital in Fort Collins and Medical Center of the Rockies in Loveland
Longmont Clinic in Longmont
Memorial Hospital Central and North in Colorado Springs
Metro Denver-based University of Colorado Hospital
We know how fast the world of health care is changing, and we push ourselves to stay ahead of the curve. Our growing team of talented providers stands ready to address your every health need.
Stronger together
Separately, our institutions provide superior care to patients and committed service to the communities we are honored to serve. Together, we push the boundaries of medicine as we improve health through innovation. Our specialty practices have rapidly gained a reputation for excellence nationwide.
Born and raised in Colorado
UCHealth's hospitals and clinics have been trusted health care destinations for generations of Coloradans. We're poised and eager to meet the health care needs of families in Colorado, and the Rocky Mountain region, for generations to come.
For information about UCHealth or our individual regions, including the number of patients we care for and more, download any of our UCHealth fact sheets: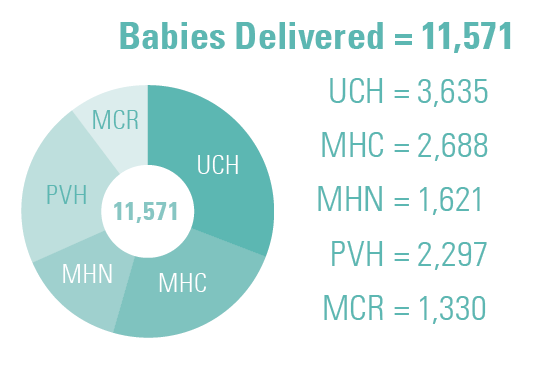 UCHealth System    Northern Colorado    Metro Denver    Southern Colorado
Awards and recognition
At UCHealth we measure success first by patient outcomes and satisfaction. With an academic medical center at our core, we have at hand the newest technologies and the latest proven treatments — but those advantages mean little unless we have helped you regain a level of wellness that opens you to life's possibilities.
We serve the people of Colorado and the nation with the very latest in patient and family-centered care and service. Over the years UCHealth facilities and programs have earned – and continue to earn – numerous awards and recognitions.
Recognized for our care
UCHealth 2014 Nursing Annual Report
The inaugural 2014 Nursing Annual Report for UCHealth highlights the many accomplishments of the UCHealth nursing workforce, and demonstrates their compassion, dedication and competency.
Each day, nurses at UCHealth improve the lives not only of Coloradans but our neighbors in the larger Rocky Mountain region. Their clinical excellence, integrity, and compassion make an indelible impact on every person, every time, by honoring and practicing our standards of excellence.
View/download report
Community Benefits Report 2016
UCHealth's commitment to the communities we serve
UCHealth combines the strengths of the region's best academic and community hospitals, along with access to clinics throughout the Front Range, to improve the lives of patients and their families in Colorado and beyond.
In our 2016 fiscal year (July 1, 2015 – June 30, 2016), we invested $584 million – $1.6 million every day – in programs, facilities, subsidies, research and more in the communities we serve, improving lives and building on our vision of moving from health care to health.
Our efforts focused on three key initiatives:
Making care accessible to the communities we serve, including subsidizing care and increasing care access points.
Building community connections through support of nonprofit programs, community education and job creation.
Moving care forward through world-class medical research, improving care quality, and training the next generation.
2016 Community benefits overview*
*Additional detail about these figures are contained within the report.
Community Health Needs Assessment
2016 Community Needs Assessments
(status updates will also be posted under the expandable headings below)
Insurance plans accepted
UCHealth works with major payers to provide access to our facilities to as many individuals as possible, and our facilities are in-network for most insurance plans. However, please note that this list is not exhaustive of all payers, and UCHealth may be out-of-network for some products offered by the payers listed. To confirm if your insurance provider or specific plan is contracted with any of our facilities, contact your insurance provider and your clinic to confirm network status.
Please be aware that your insurance plan may allow you to go out-of-network with proper authorization. If your insurance provider or plan is out-of-network with your UCHealth facility, contact your clinic to find out if an out-of-network authorization can be obtained.
The phone number listed below may not match the phone number listed on the back of your insurance card. Call the phone number on the back of your card for the most accurate information. Before receiving services, contact your health insurance company to verify your personal benefits, plan limitations, and referral and/or pre-authorization requirements.
Aetna — 1-800-872-3862
Anthem Blue Cross/Blue Shield — 1-800-810-2583
Banner Health — 800-827-2464
CHP+ (Colorado Access) — 1-888-214-1101
Cigna/GreatWest  — 1-800-244-6224 (group) or 1-866-494-2111 (individual)
Cofinity — 1-800-831-1166
Colorado Access — 1-855-469-7226
CICP — 720-848-1025
Coventry/First Health — 1-800-226-5116
Denver Health — 303-602-2100
First Choice Health — 800-467-5281
First Choice of the Midwest — 888-246-9949 Option 4
Humana — 1-800-833-6917
Kaiser — 303-338-3800
Lifesource — 1-800-668-9682
Mulitplan/PHCS — 800-922-4362 or 888-342-7427
Optum Health (formerly URN) — 800-873-4575
Pinnacol Assurance — 303-361-4000
Rocky Mountain Health Plan (RMHP) — 970-243-7050
Tricare—United HealthCare — 1-877-988-9378
UCHealth Plan Administrators — 800-207-1018
United Healthcare/PacifiCare of Colorado — 800-516-3344
Innovation
In the last 150 years the health care landscape has undergone a number of upheavals that fundamentally changed the way diseases were viewed and treated. In the late 1800s the germ theory of disease ushered in an expansion of public health efforts. The discovery of penicillin in the 1920s promoted the use of medicines to treat disease. The implentation of randomized controlled trials in the 1970s led to our current era of evidence-based medicine.
The next trend
As we near 2020, another seismic shift of innovation is taking place. The trend toward big data, tools and systemization of care, in combination with connected patients, will soon revolutionize the way care is delivered to those who need it.
Having a combined academic research and clinical care system elevates the capability of UCHealth and its partners to design and produce the next generation of medicines and treatment therapies.
UCHealth's CARE Innovation Center leverages the extensive clincial capacity of UCHealth and the deep expertise of providers and researchers at the CU School of Medicine. It is a comprehensive, integrated center that develops, tests, and puts in place transformative health care solutions.
Opening the door to innovation
The CARE Innovation Center welcomes innovators to join us in developing tomorrow's health care solutions today. Have an idea for a new device? Better diagnostics? An improved internal process? We are your advocates and partners to help you bring your innovative idea to the care setting.
Outcomes
UCHealth is an affirmative action-equal opportunity employer
UCHealth[1], supported by our Chief Executive Officer, recognizes and appreciates the rich array of talents and perspectives that equal employment and diversity can offer our institution. UCHealth is an affirmative action/equal opportunity employer. No employee or applicant shall be discriminated against in any terms, conditions or privileges of employment or otherwise be discriminated against because of the individual's race, creed, color, religion, gender, national origin or ancestry, age, mental or physical disability, sexual orientation, gender identity, transgender status, genetic information or veteran status.
UCHealth does not discriminate against any "qualified applicant with a disability" as defined under the Americans with Disabilities Act and will make reasonable accommodations when they do not impose an undue hardship on the agency. If you require reasonable accommodation to complete an employment application and/or any other aspect of the employment application process, please contact the Human Resources Department at 1-855-694-7824.

1University of Colorado Hospital Authority is the sole employer of staff at UCHealth including Colorado Health Medical Group, Medical Center of the Rockies, Memorial Hospital, Poudre Valley Hospital and University of Colorado Hospital.