(Formerly known as Rocky Mountain Gamma Knife Center)
---
To schedule a consultation or appointment, please call the office of one of the physicians listed on this page. For general questions about the Gamma Knife procedure, please call our number above.
---
No incision. High precision.
The UCHealth Gamma Knife Center offers Gamma Knife® radiosurgery, a non-invasive radiation therapy treatment designed specifically for the brain.
When you're facing brain surgery, you want a treatment option with low risk and a high rate of success. Gamma Knife surgery is just such an option, providing an alternative to surgery and other less-effective radiation therapies. After thousands of studies, this noninvasive procedure is considered the gold standard treatment for trigeminal neuralgia, metastatic and benign brain tumors, acoustic neuroma, and arteriovenous malformations.
Gamma Knife treatment has proven to be very effective, stopping benign tumor growth in 93 percent of cases and curing up to 97 percent of trigeminal neuralgia cases.
Gamma Knife is used to treat:
Benign tumors, such as meningiomas, acoustic neuromas, and pituitary tumors.
Arteriovenous malformations (AVMs).
Trigeminal neuralgia.
Metastatic brain tumors.
Malignant melanoma.
At UCHealth Gamma Knife Center, our team of specialists will carefully review your medical history and discuss treatment options with you to determine whether you are a good candidate for a Gamma Knife procedure.
Call us at the number above to find out if you might be a candidate for Gamma Knife® surgery.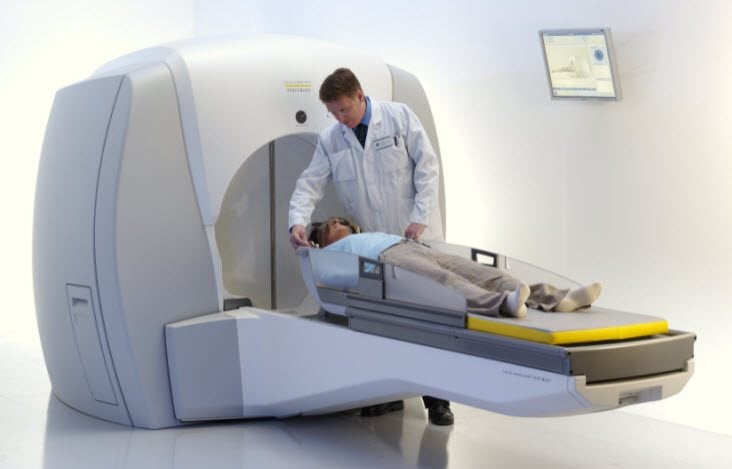 Our expertise
The physicians and staff at UCHealth Gamma Knife Center offer a level of experience and expertise found only in the most advanced facilities in the country. Since opening in 1993, we have treated more than 5,300 patients for malignant and benign tumors, trigeminal neuralgia, acoustic neuroma, and nearly 30 other complex neurological conditions and disorders of the brain.
Our team of specialists has averaged over 200 Gamma Knife procedures a year, putting UCHealth Gamma Knife Center in the top 5 percent nationwide.
---
How to find us
The Gamma Knife Center is located on the first floor of the Anschutz Outpatient Pavilion (AOP) at the end of the Radiology hallway.
Benefits of Gamma Knife radiosurgery
Gamma Knife radiosurgery, also called stereotactic radiosurgery, offers the following benefits:
Extreme precision. Allows a powerful dose of radiation to be delivered with no or minimal damage to healthy surrounding tissue and structures.
No incision. Results in fewer complications such as bleeding, infection, or cerebrospinal fluid leakage.
Painless. Requires no general anesthesia, eliminating the related potential side effects.
One-time treatment. Performed in a single session, primarily on an outpatient basis and only occasionally requiring an overnight stay.
No down time. Patients can return to their normal activities almost immediately, with no rehabilitation necessary.
Low cost. Covered by most insurance plans and costs much less than traditional treatments.
Frequently asked questions (FAQs) about Gamma Knife