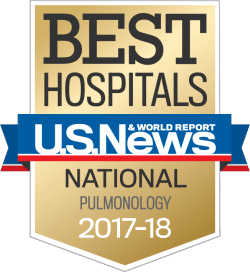 Experts in treating interstitial lung disease
Our entire team at the Interstitial Lung Disease (ILD) clinic is dedicated to improving the lives of our patients with ILD through patient care, education and research.
Our multidisciplinary team combines the skills of pulmonologists, rheumatologists, thoracic radiologists and thoracic pathologists, all of whom have specific expertise in ILD and work closely with subspecialists, including the lung transplant team.
A Pulmonary Fibrosis Foundation Care Center
UCHealth University of Colorado Hospital is designated as a Pulmonary Fibrosis (PF) Foundation Care Center network site.
PF Care Centers have the necessary resources and specialized staff to fully manage pulmonary fibrosis, and use a multidisciplinary approach to provide the most comprehensive patient care. Experts in pulmonology, rheumatology, radiology, pathology and nursing specializing in interstitial lung disease comprise the care team at each PF Care Center.