Schedule your mammogram online
Did you know?
Patients can schedule their mammograms through the UCHealth app or My Health Connection (MHC), our patient portal.
Visit this page
to log in to MHC, create an MHC account, or get the UCHealth app to schedule your appointment online.
Our radiology and imaging facilities are staffed by experts with long experience in diagnostic imaging.
How to find
Enter the main entrance of the AOP (the east side of the hospital where the clinics are). You will see the main reception desk in front of you just inside the entrance doors. Turn left down the main corridor, and you will see signs posted for Radiology. We are located down the hallway across from the Courtyard Café. (See route below)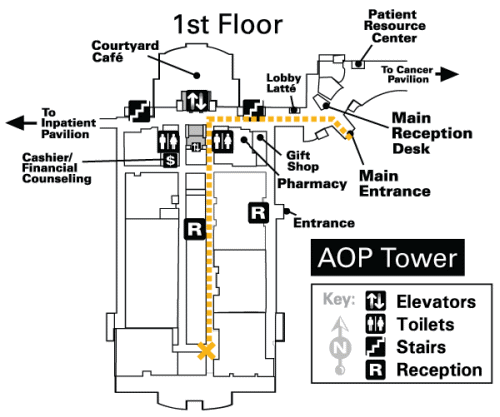 Patient referrals
Radiology/imaging requests and referrals at University of Colorado Hospital
Option one (no Electronic Medical Record): read all information on this PDF form, then submit the completed form via email or via fax to 720-848-1651.
Option two (Electronic Medical Record on hand): From the EMR, you may send signed physician orders with ALL supporting clinical documentation/records (REQUIRED), especially if UCHealth is attempting to obtain authorization for you. This may include current progress notes, imaging reports, or any other relevant documentation.

Send this information via email or via fax to 720-848-1651. Please be sure to include updated patient demographics, including phone number, address, and updated copy of insurance card.