The Seniors Clinic at UCHealth University of Colorado Hospital in metro Denver provides primary health care services, including behavioral health, for patients who are at least 75 years old.
Your provider team at UCHealth Seniors Clinic, located on the Anschutz Medical Campus in metro Denver:
Provides primary health care services for patients who are at least 75 years old.
Is sensitive to the special needs of our patients.
Promotes wellness in old age.
Improves diagnosis and treatment of age-related diseases and syndromes.
Provides more appropriate care near the end of life.
Conditions we treat
Diabetes
Cognitive impairment
Falls/instability
Polypharmacy (taking too many medications)
End-of-life decisions
Cardiac and peripheral vascular disease
Osteomalacia
Unexplained weight loss and "failure to thrive"
Incontinence
About your appointment
Here's what to bring to your appointment
Your photo ID (driver's license, passport, state or military ID are acceptable)
Your insurance card or the name of your carrier; the plan, policy or group number; and the phone number of the insurance company. If covered by a spouse's policy, know your spouse's date of birth and Social Security number. Patients should bring Medicare insurance information including information on Plan D
A referral form or number if required by your insurance carrier
Previous medical records. You also can arrange to have them transferred well ahead of your scheduled appointment time
A list of all prescription and over-the-counter medications you take (bringing the medication bottles is even better)
Name, address and phone number of the referring physician (if relevant)
Medicare Advantage
A Medicare Advantage plan, or Medicare Part C, is a Medicare plan offered by a private company that contracts with Medicare to provide you all your Original Medicare Parts A and B benefits as well as any additional coverage offered through the Medicare Advantage plan.
In addition to providing hospital and medical coverage, this plan also typically includes prescription drug coverage under Part D called Medicare Advantage Prescription Drug plan (MAPD). Unlike Original Medicare plans, Medicare Advantage plans are required to limit your annual out-of-pocket costs.
Medicare Advantage: learn more
Fall Prevention clinic
Keep moving for years to come!
Don't let fear of falling slow you down. Stay independent. Reduce your risk of falling and avoid life-changing injuries. Let experts assess your risk of falling and give you a full treatment plan.
The Fall Prevention clinic is open to patients over age 65 who have had a fall or are at high risk of falling.
Ask your doctor to refer you today!
For more information, call 720.848.0857, or email us at [email protected].
Our recognitions
We're a NICHE hospital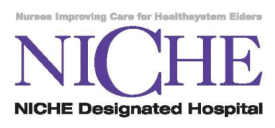 UCH's NICHE (Nurses Improving Care for Healthsystem Elders) designation is a testament to our commitment to provide our older patients with exemplary care.
University of Colorado Hospital is one of only about 300 NICHE hospitals in the U.S. whose shared goal is to practice patient-centered care for elderly patients.
Age-Friendly Health Systems
All older adults deserve safe, high-quality health care that is based on what matters most to them as individuals and delivered reliably in every setting.
As part of the Age-Friendly Health Systems movement, University of Colorado Hospital is among the first health systems in the country implementing age-friendly health care.