Call the clinic number for weekday appointment times.
UCHealth University of Colorado Hospital in metro Denver is home to the only multi-disciplinary pulmonary clinic team in the Rocky Mountain region. Our specialists provide diagnosis and treatment for pulmonary nodules and lesions — whether benign or cancerous.
Providers at the Pulmonary Nodule Clinic are committed to giving patients the most accurate, rapid assessment of nodules and lesions. High-risk patients can expect to see a physician during the next available clinic; typically most patients will be seen within two weeks of calling our staff.
Physicians will provide a clear explanation of the best course of action for diagnoses and treatment. And once that is decided, patients are diagnosed with not only the best equipment available, but by the only multi-disciplinary pulmonary clinic team in the Rocky Mountain region.
What is a pulmonary nodule?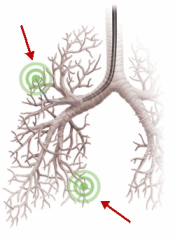 A pulmonary nodule is a small spot on the lung less than 3 centimeters in diameter. Often nodules do not cause pain, or present any signs or symptoms. Most patients, in fact, are surprised to learn they have a pulmonary nodule – physicians find almost 90% of them while conducting chest x-rays or CT scans for other ailments.
Most pulmonary nodules are benign. They are often the result of an infection, or scar tissue build-up from a previous infection. But because they can be cancerous, they are worrisome for patients. Doctors may recommend a "watchful waiting period" to see if the nodule grows or changes shape or they may recommend a diagnostic approach to determine if the nodule is cancerous.
Because early detection is critical to successfully treating cancer, our clinic uses the most advanced diagnostic technology, enabling faster, safer and more accurate diagnoses.
For referring physicians
If you refer a patient to the Pulmonary Nodule Clinic, you can expect your patient to be seen in less than 10 days – most often he or she can receive a diagnostic procedure within a week.
Our medical team will communicate all diagnostic plans and findings with you, and provide any additional work-up if needed. We will also provide ongoing radiographic follow-up, if indicated, for nodules not amenable to tissue diagnosis.
Once a diagnosis is obtained, we will handle any referrals to specialists that may be needed; we serve as a single entry point into the UCHealth system.