It takes a team of experts to beat cancer.
Our weekly neuroendocrine multidisciplinary clinic (MDC) includes specialized radiologists, pathologists, surgical oncologists, medical oncologists, radiation oncologists, clinical researchers, oncology nurse practitioners, oncology social workers, rehabilitation specialists, registered dietitians and genetic counselors.
To learn more, contact Reed Weiss, neuroendocrine nurse practitioner at 720-848-0507.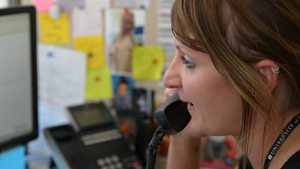 Single point of contact
Our neuroendocrine nurse practitioner is dedicated to helping patients understand treatment options and find support, from time of referral and throughout their care.
Convenience
Our team rapidly evaluates each case, which reduces time to diagnosis and plan consensus. This can result in faster time to treatment and survivorship.
Expertise and understanding
Patients with neuroendocrine tumors often have delayed or misdiagnosed symptoms. Rest assured, we know the challenges people experience and have some of the nation's top specialists—who have extensive experience and training from institutions such as Harvard, Mayo and Johns Hopkins. We use an evidence-based approach when designing each person's care plan.
Integration
From Fort Collins to Colorado Springs, all of UCHealth's cancer care clinics are seamlessly integrated into UCHealth University of Colorado Cancer Center in Aurora, the top cancer research institute in the Rocky Mountain region and one of 51 National Cancer Institute-designated Comprehensive Cancer Centers in the U.S.

Clinical research
Each patient has access to new and innovative care. The team evaluates each patient for clinical trial eligibility, sometimes offering therapies years before they are widely available.
>> Visit our clinical trials page to learn more
Improved patient experience
Many patients will experience the dynamic multidisciplinary team by having one appointment that will include their medical oncologist, radiation oncologist and surgeon together. This team will present an agreed-upon plan for treatment to the patient. The patient benefits from hearing from each discipline and being able to ask questions of all the team at one time. In addition, each case is reviewed at the MDC by over 15 specialists. This removes the burden from the patient to interpret treatment recommendations from separate appointments. It also reduces scheduling, travel and wait time until treatment, common obstacles to timely care.
Referring providers updated.
Communication is provided from the initial appointment through treatment and aftercare.
Eligibility
Patients and their providers can refer to the MDC.