Top Denver metro thoracic surgery specialists
Thoracic surgery involves procedures to treat the organs in your chest such as your heart and lungs, and it extends to your esophagus and trachea. It also involves your rib cage and breastbone, called the chest wall.
Our thoracic surgeons have trained extensively in this specialty and have decades of experience. They work closely with our doctors in gastroenterology, oncology, pulmonology, pathology, and other specialties to create a personalized plan for you. Whatever your situation is, you'll get an expert team dedicated to your surgery, your recovery and your future.
We specialize in:
Chest wall and chest deformity surgery
Lung volume reduction surgery
Mediastinal surgery
Minimally-invasive and robotic surgery (video-assisted thoracoscopic surgery)
Thoracic surgical oncology
Tracheal surgery
Our physicians also diagnose lung and mediastinal diseases.
Comprehensive Lung and Breathing Program
The nation's #1 lung program is here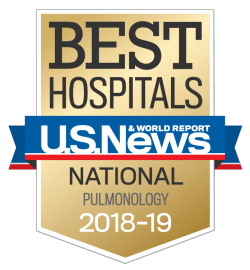 UCHealth's Comprehensive Lung and Breathing Program in metro Denver is ranked #1 in the country by U.S. News and World Report.
Whether you live in or outside the Rocky Mountain region, our advanced lung specialists are here to see you. We use the most advanced procedures and technologies to try and relieve your short- and long-term respiratory problems.