The multidisciplinary cancer treatment programs at the CU Cancer Center at University of Colorado Hospital in metro Denver are acknowledged as some of the best in the United States.
Specialists who really specialize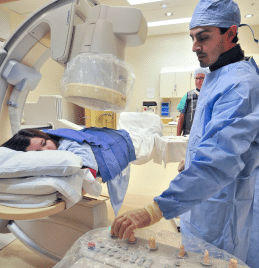 Unlike other hospitals that have general radiation oncologists, our radiation oncologists specialize in certain cancers. This means that your radiation oncologist has extensive experience in your particular kind of cancer—and more experience often leads to better outcomes.
Moreover, many of our specialists serve on the national committees that set the standards of care – and they bring that deep expertise to their patients at UCHeath.
Your radiation oncologist at the CU Cancer Center will work in tandem with all of your cancer doctors to make sure you are receiving appropriate care. He or she will attend weekly meetings to discuss your case and make sure you are on track, and keep your primary care physician briefed about your care and progress.
Why choose us?
Comprehensive Cancer Center. We are part of the region's only National Cancer Institute-designated Comprehensive Cancer Center. This designation is the gold standard of cancer care, research, education and prevention.
National leaders. Our radiation oncologists are nationally renowned for radiation therapy treatment and research, serving as leaders in the Radiation Therapy Oncology Group and other national, research-based organizations that actually set the standards of care.
Colorado's only dedicated pediatric radiation oncologist. In conjunction with Children's Hospital Colorado, we feature the only dedicated pediatric radiation oncologist in the state.
Our expertise and technology
As part of the region's only National Cancer Institute-designated comprehensive cancer center, we offer a full range of clinical trials of radiation therapies:
Mammosite therapy for breast cancer
High dose rate bracytherapy treatment for cervical cancer
Brachytherapy for prostate, breast and other forms of cancer
Shaped Beam Surgery for treating brain tumors, AVMs and other lesions of the brain
Stereotactic body radiation therapy for targeting small cancers with very localized, high doses of radiation
Low-Dose-Rate Permanent Seed Implants for prostate cancer
Intensity modulated radiation therapy (IMRT) with daily image guidance
Gamma Knife therapy
Your clinic appointment
Your clinic appointment
For your first appointment, please arrive 30 minutes early to fill out paperwork. Also, we may ask you to bring:
Lab and pathology reports and slides
Films – MR, CT, PET Scans
Consultation notes
Surgical reports
Depending on the type of procedure you are having, you may need to bring additional information with you. The person who schedules your appointment will verify exactly what records and reports you need to bring.