After hours on-call clinical support: 720-848-0000
Our world-renowned, multidisciplinary team specializes in treating the two main types of lung cancer:
Non-small cell lung cancer, including squamous cell carcinoma, large cell carcinoma and adenocarcinoma
Small cell lung cancer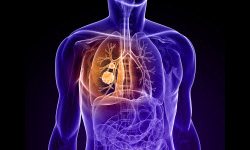 We are also experts in treating other cancers of the respiratory system and related cancers, including:
Malignant mesothelioma
Thymoma and thymic carcinoma
Small cell cancer in other body sites
Chest sarcomas
Pulmonary carcinoid tumors
Other rare thoracic cancers
For patients requiring input of multiple different treatment experts (surgery, radiation oncology and medical oncology), our multidisciplinary clinic offers a rapid, convenient "one stop shop."
Video
You Wanna Fight?
Video: Meet some of the team and learn about our lung multidisciplinary clinic, the only such clinical approach available in Colorado.
Video: the latest research and targeted therapies
CU School of Medicine oncologist Ross Camidge, MD, discusses the latest research and targeted therapies for lung cancer at a Colorado State University health forum.
Our world experts get offered the pick of clinical trials nationally and internationally and have led many breakthroughs in the treatment of lung and other thoracic cancers in recent years.
Cancer team
Your lung and chest cancer team
We take a true multidisciplinary approach to treating cancer. That means we bring a number of cancer specialists – including thoracic surgeons, medical oncologists, pathologists, radiologists, nurses, social workers, counselors and more to review your case, follow its progress and develop ways to achieve the best results.
Being at an academic medical center allows many of these professionals to subspecialize – in other words, they focus solely on lung and chest cancers. That generally means they not only know the latest proven treatments and research, but they are often on the forefront of discovering them.
Lung Cancer Colorado Fund
Overseen by the physicians and scientists of the University of Colorado's Lung Cancer Program, the Lung Cancer Colorado Fund is used to support many different needs of the University and UCHealth's combined fight against lung cancer.
Awards and recognition