Recall notification
(June 2021)
Philips Respironics recently announced a voluntary recall for many of its respiratory care products. This includes some continuous positive airway pressure (CPAP) and bilevel positive airway pressure (BiPAP) devices and some ventilators.
Innovation that helps you rest easy
We're here to bring you the latest proven treatments for your sleep-related problems. We consult with our Comprehensive Lung and Breathing Program team to decide on the best care for you, including diagnosis of your condition, non-surgical therapies and the surgical intervention you may need, not found many other places locally. Better sleep is not far away.
Your multidisciplinary team
It takes a collection of different specialists to properly diagnose and treat sleep patients. This "multidisciplinary" approach is a hallmark of our Comprehensive Lung and Breathing Program in metro Denver.
We'll provide you with the most current, effective and evidence-based treatments in a single-day appointment, along with the opportunity to meet every specialist involved in your care. These specialists might include:
Pulmonary sleep specialists
Airway specialists
Nurse practitioners
Psychiatrists
Neurologists
The region's #1 lung program is in your neighborhood
UCHealth's Comprehensive Lung and Breathing Program in metro Denver is ranked #2 in the country by U.S. News & World Report.
Whether you live in or outside the Rocky Mountain region, our advanced lung specialists are here to see you. We use the most advanced procedures and technologies to try and relieve your short- and long-term respiratory problems.
Conditions we treat
Tests
We offer the following testing options for sleep disorders. Talk to your primary care provider or call our clinic directly to get a referral for a sleep study.
Home sleep study
In-lab sleep study – these studies are conducted at the UCHealth Sleep Lab – Central Park
Drug-induced sleep endoscopy (DISE), a test where a flexible telescope is inserted through the nose to figure out exactly where the obstruction is happening during sleep.
Iron deficiency test
Treatments
Continuous positive air pressure (CPAP). The first line of treatment for obstructive sleep apnea (OSA). CPAP involves a mask that uses air to open a patient's airway so they can breathe better during sleep. Our team can help educate you on the different options and comfort settings of CPAP machines to find the best option for you.
Cognitive behavior therapy (CBT). This method for treating insomnia involves learning to control the worry and negative thoughts that keep you from falling asleep.
The treatments below are offered through our Ear, Nose and Throat practice.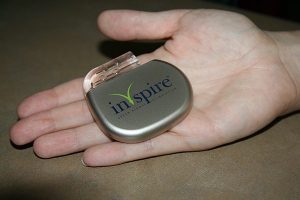 Inspire. This therapy is designed for patients with moderate to severe OSA who haven't had success with CPAP. Inspire consists of a breathing sensor and stimulator with a small battery that's surgically implanted and delivers a mild electrical charge to key muscles to keep your airway open during sleep.
Sleep surgery. For OSA patients with documented CPAP failure, sleep surgery may be an option. We do a comprehensive airway evaluation to pinpoint where the obstruction is happening, and then offer a personalized approach to determine if surgery is right for you.
Videos from our providers