UCHealth is an American Heart Association (AHA) Training Center (TC). We offer classes for all learning modalities, from traditional classroom style to blended learning, at multiple UCHealth facilities.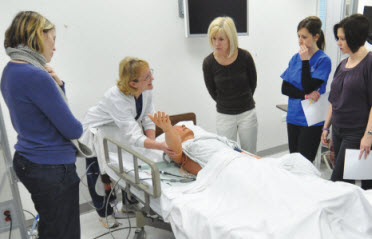 Our courses are designed for both experienced providers as well as the lay public. Among the courses we currently offer:
Heart Saver
Basic Life Support (BLS)
Advanced Cardiovascular Life Support (ACLS)
Advanced Cardiovascular Life Support Experienced Provider (ACLS EP)
Pediatric Advanced Life Support (PALS)
Neonatal Resuscitation Program (NRP)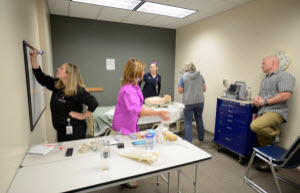 For students
Mission. Our mission supports the UCHealth Mission of improving lives with the value of putting patients first. UCHealth strives to educate as many people as possible in resuscitation and life-saving techniques.

Vision. Our vision is to be a center for education and innovation for employees and partners, and to provide a foundation for evidence-based instruction and practice. We do not provide education in a vacuum; we function within a leading healthcare system dedicated to optimizing clinical and quality outcomes. Our goal is to improve patient outcomes related to core measures; quality indicators, regulatory requirements and national patient safety standards, and we have the clinical infrastructure to measure these outcomes. We offer our courses within this context of continuous quality improvement.

Values. UCHealth is committed to teaching evidence-based courses to all. We want to provide quality teaching and learning.  We will accomplish this by providing opportunities for our instructors to realize their full potential.
E-card information
 American Heart Association (AHA)
For instructors
Guidelines and instructor information
American Heart Association (AHA)
AHA Instructor Network
Roster and evaluation forms