At University of Colorado Hospital in metro Denver (Anschutz Medical Campus)
Post-Baccalaureate/Graduate Nurse Residency program
For additional information, visit our FAQs page.
Learn about nursing units
You've done it. You just dedicated years to learning how to fulfill your dream—becoming the best nurse possible. What's next? How do you make that all-important transition from student to professional nurse?
Our nationally-accredited Post-Baccalaureate Nurse Residency Program is the transition that will make the critical difference in your career.
As a newly graduated RN in our Nurse Residency Program, you will receive the education and support necessary to develop the judgment, skill and knowledge you'll need to become the highest caliber nurse. A lofty goal – yet a very achievable one – our Magnet status guarantees you will be mentored by the best, most highly educated nurses in Colorado and the country. This invaluable program will enable a clear career path into acute care nursing. In fact, many graduates of this esteemed program have gone on to become charge nurses, nurse educators, preceptors and more.
Enrollees in our program receive a year of post-baccalaureate education, comprised of:
10-24 weeks of orientation & precepted experience on the clinical unit of hire
Paid specialty courses (part of your 36-hour work week) designed for your specific unit occurring throughout the year
Paid monthly Nurse Residency Seminars, providing additional curriculum and mentoring support
Our Post-Baccalaureate Nurse Residency is facilitated by UCHealth's expert registered nurses with program goal emphasis on:
Transition from entry-level advanced beginner to competent professional nurse in the clinical environment
Develop effective decision-making skills related to clinical judgment and performance
Develop strategies to incorporate research-based and other evidence into practice
Develop clinical leadership skills at the point of patient care
Practice collaboratively as members of the inter-professional healthcare team
Formulate an individual career plan that promotes a life-long commitment to professional nursing
When you successfully complete the program, you can look forward to a second year of pursuing your nursing passion through continued employment at our nationally-recognized, Magnet status hospital.
2018 Program dates and milestones
Application information
To be considered, all parts of the metro Denver Nurse Residency application packet must be received online by the application deadline.

The Post-Baccalaureate Nurse Residency Program at University of Colorado Hospital is accredited by the Commission on Collegiate Nursing Education (http://www.aacnnursing.org/).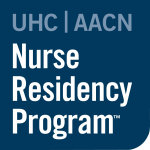 UCH's Nurse Graduate Residency Program partners with University of Colorado's College of Nursing