Medical Center of the Rockies is a 166-bed regional medical center in Loveland, Colorado with a full spectrum of services and specializing in heart and trauma care.
Transfers, direct admits and consultations: call DocLine at 1-844-285-4555.
Conditions we treat
MCR has two intensive care units, a birthing center and a special care nursery, a medical nursing unit, a surgical nursing unit, an inpatient acute rehabilitation unit and full-service radiology and laboratory departments. The hospital also is home to Air Link, which is UCHealth's emergency medical, critical care air transportation program.
Surgical services include general surgery, cardiothoracic, orthopedic trauma and neurological trauma. Robotic-assisted surgery also plays a prominent role in patient care. MCR also includes an acute dialysis unit.
Patient and visitor information
Your stay at UCHealth
Whether you're a guest or a visitor at Poudre Valley Hospital in Fort Collins or Medical Center of the Rockies in Loveland (view the MCR patient guide), our goal is to deliver world-class care and customer service that exceeds your expectations.
Our doctors and nurses will make sure you receive the best possible care. Our staff and volunteers will do everything they can to make your visit comfortable. Our hospitals offer amenities such as free wireless Internet, kitchens and lounges.
If there's anything we can do to make your stay more comfortable, please don't hesitate to ask. We're here for you.
Admission process
Once your doctor refers you for surgery or a procedure at Medical Center of the Rockies or Poudre Valley Hospital, your doctor's office typically will schedule a pre-admission appointment for you. This appointment is required before surgery.
Call 970-624-1500 as soon as possible to schedule your pre-admission appointment if your doctor's office has not done so already.
During this appointment you will:
Meet with an admissions clerk to verify that all paperwork is accurate
Learn the total out-of-pocket expense of your procedure
Meet with a pre-admission nurse who will explain what to expect the day of surgery and which currently prescribed medications can be taken before the surgery
You may also complete any required diagnostic tests after meeting with the nurse. Ask your doctor if you can eat or drink before your appointment.
Ways to give
Generosity heals
Giving of oneself is the ultimate gift to our world. We treasure the time and energy our volunteers give back each and every day.
Whether you give your time, money, talents, or thoughts, it is a gift that makes our community stronger.
Interested in giving your time, talents or treasures to Poudre Valley Hospital or Medical Center of the Rockies?
Make a gift or volunteer with the PVH and MCR Foundation
Help support the health of our community
Make a donation to support programs and services at Poudre Valley Hospital, Medical Center of the Rockies, and health initiatives in our community.
Volunteer
Share your time and talents by volunteering at Poudre Valley Hospital, Medical Center of the Rockies or other University of Colorado Health sites in Northern Colorado. Hundreds of community members are volunteers.
You'll make new friends, enjoy a change of pace, gain a new perspective, learn more about health care and, most importantly, you'll help the UCHealth effort to improve lives.
Examples of the many opportunities for volunteering:
Greet families and friends in waiting rooms while their loved ones undergo surgery.
Work in gifts shops in the two hospitals or Unique Repeats Thrift Shop near PVH; proceeds support MCR and PVH services and programs.
Drive carts to shuttle visitors to and from hospital parking lots.
Assist with office duties.
Stock supplies in work areas.
Pet Therapy Program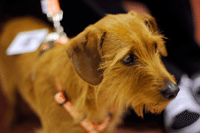 For those of you with lovable dogs, both hospitals offer hugely successful pet therapy programs. Research has shown that interaction with pets can help in a patient's recovery. After you and your dog receive training, you escort your pet around to visit patients, visitors and staff members.
VolunTeen Program
There's also a fun VolunTeen program at each hospital where teenagers from ages 14 through 17 deliver cookies to patients, assist with clerical duties, manage a recycling program (at MCR) and gain experience in many other areas, a great resume-builder for teens.
The process to become a volunteer includes an interview, orientation and training.
Contact us
Medical Center of the Rockies
970-624-1884
Gaynel.Tanner@uchealth.org
>> Go to our main Volunteer page to find out more about volunteer opportunities at UCHealth facilities in Fort Collins, Loveland, metro Denver, and the Colorado Springs area.
Environmental health and safety
Medical Center of the Rockies promotes environmental compliance and responsibility, emergency preparedness, and overall employee health and safety. This includes a focus on local, state, federal, and Joint Commission (accreditation) requirements and guidelines.
The Environmental Health and Safety Department also works as an education and consulting resource for the hospital and the surrounding community.
Leadership
Medical Center of the Rockies
Physician leadership
Chief of Staff: Jamie Teumer, DO
Vice Chief of Staff: James Hoyt, MD
UCHealth – Northern Colorado Senior Management Group
Kevin Unger, President/CEO, PVH and MCR
Marilyn Schock, Chief Operations Officer, PVH and MCR, President, Greeley Hospital (Opening 2018)
Tom Downes, MD, Chief Medical Officer, PVH and MCR
Stephanie Doughty, Chief Financial Officer, PVH and MCR
Donna Poduska, Chief Nursing Officer, PVH
Ryan Rohman, Chief Nursing Officer, MCR
Amy Kolczak, Senior Associate General Counsel, PVH, MCR and CHMG
Anjanette Mosebar, VP Human Resources, PVH, MCR, and CHMG
Dan Robinson, CEO, Longs Peak Hospital, Longmont
Joe Gerardi, Chief Nursing Officer, Longs Peak Hospital, Longmont
Jason Amrich, Vice President Operations, Longs Peak Hospital, Longmont
Steve Schwartz, CFO, CHMG
Donna Lankford, VP, Operations, CHMG
Dr. Michael Randle, Chief Medical Officer, CHMG
Dr. William Neff, Chief Medical Officer, UCHealth
Stan Gunstream, MD, Chief Quality Officer, UCHealth