Influenza ("the flu") is caused by the influenza virus that infects the respiratory tract, affecting the nose, throat and lungs.
The flu can cause severe illness and life-threatening complications, like bacterial pneumonia and dehydration. It can also cause chronic medical conditions to worsen.
I feel sick/Me siento mal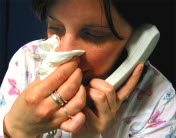 Expert care for the flu
Because each flu season is different and the virus evolves over time, the infectious disease specialists at UCHealth continually monitor the latest developments. We're equipped with the latest tools for detecting, treating, and preventing the flu in our communities.
Flu vaccines, tests, and treatments
Flu vaccines
Tests for influenza

Physical examination – your doctor may diagnose based on symptoms
Rapid antigen detection tests – a blood test that detects influenza
Fluorescent antibody tests – to differentiate between several upper respiratory viruses, influenza A, and influenza B

Treatments for influenza

Antiviral medications – prescription medications that treat the flu
Hospitalization – when influenza causes severe illness. This includes treatment for dehydration.
>> Learn more about influenza, including symptoms, causes, and treatments.
Recent news in Seasonal flu treatment and flu shots