Taking care of your heart and vascular system
Our expert team provides high-quality, compassionate care while developing innovative treatments for heart and vascular diseases. That's why so many Colorado patients turn to UCHealth University of Colorado Hospital for the best cardiovascular care.
In addition to leading-edge cardiovascular research and treatments, UCHealth often hosts clinical trials. You might qualify to participate in a research study about your cardiovascular condition, which could give you access to treatments months or years before they're available to the general public.
No matter what type of care you need, you will benefit from our personalized, multidisciplinary treatment plans.
Specialties
Adult congenital heart disease
The UCHealth Adult Congenital Heart Disease Clinic hosts the leading program in the region, following more than 1,000 patients. Our partnership with Children's Hospital Colorado lets pediatric patients easily transition their care when they become adults.
Advanced heart failure
The UCHealth Heart Failure Clinic operates the Rocky Mountain region's largest referral program accredited by the Joint Commission for Advanced Heart Failure and Cardiomyopathy, including implanting mechanical circulatory support devices and heart transplant.
Cardiac electrophysiology
UCHealth Cardiac Electrophysiology (EP) is a comprehensive clinic program to manage cardiac arrhythmias. Treatment options range from medication to atrial and ventricular ablation to pacemaker and defibrillator implantation (ICD) and the WATCHMAN™ device.
Cardio-oncology
At UCHealth Heart and Vascular Center, we're proud to be on the forefront of cardio-oncology patient care, which includes staffing Colorado's only fellowship-trained cardio-oncologist.
Pulmonary vascular disease
Operating out of the UCHealth Pulmonary Vascular Disease Clinic, our Comprehensive Lung and Breathing Program treats patients with all forms of pulmonary vascular disease, including pulmonary hypertension, pulmonary embolism and hereditary hemorrhagic telangiectasia (HHT).
Structural heart
The UCHealth Structural Heart and Valve Clinic features the region's largest volumes for advanced interventional treatments for heart valve disease, with outcomes better than national averages. Therapies include transcatheter valve replacement (TAVR), WATCHMAN, and PFO/ASD and MitraClip mitral valve repair.
Vascular
Vascular treatments at the UCHealth Vascular Surgery practice involve proven state-of-the-art therapies, leading-edge minimally invasive intervention and, when available, new clinical trials to treat such conditions as peripheral arterial disease, carotid artery disease, varicose veins, blood clots and much more.
Services and treatments
Artificial heart/mechanical circulatory support/Left Ventricular Assist Device (LVAD)
Cardiac catheterization/coronary intervention
Cardiac rehabilitation and stress testing
Cardiac surgery
Cardiac transplantation
General cardiology
Imaging, including
Prevention/lipids (cholesterol)
Vascular surgery
Service spotlight: Cardio-obstetrics program
Cardio-obstetrics at UCH
At UCHealth University of Colorado Hospital (UCH) we provide expert Cardio-obstetrics care with a collaborative team. The Cardiology and Obstetric teams are dedicated to optimizing health to both pregnant patients and their babies before, during, and after pregnancy.
Pregnancy can increase stress—emotionally and physically—and we work to help patients through their pregnancies and deliveries to help ensure the best outcome for both patients. Our program offers comprehensive care alongside high-risk obstetricians, neonatologists , anesthesiologists, adult congenital heart disease (ACHD) doctors, geneticists, and other specialties as needed to meet the unique needs of each patient. These teams will help develop the right plan for each pregnant patient so they can deliver safely.
Scheduling
Please call our office to schedule your appointment.
At your scheduled appointment, please provide the following:
Photo ID
Insurance card
Referral (if needed)
Please arrive 15 minutes before your scheduled appointment to allow enough time to complete your check-in process.
We require 24-hour advance notice if you cannot make it to your scheduled appointment. If you have young children who will be accompanying you to your appointment, please try to bring another adult with you to sit with the children during your visit.
Questions? Give us a call!
Insurance
Our office participates with many different insurance companies. Because insurance plans, policies and laws often change, please contact your insurance company to see if we are a contracted provider. >> Find insurance and billing information.
Please notify us if you have an insurance plan change, coverage change or insurance loss so we can properly bill your claims in a timely manner.
In the news
From media outlets
From UCHealth Today
Awards and recognition
ACHD Accredited Comprehensive Care Center
In recognition of its expertise in serving adults with congenital heart disease (CHD), structural heart conditions present at birth, UCHealth University of Colorado Hospital has earned accreditation from the Adult Congenital Heart Association (ACHA), a nationwide organization focused on connecting patients, family members, and healthcare providers to form a community of support and a network of experts with knowledge of CHD.
ACHA is a national not-for-profit organization dedicated to improving the quality of life and extending the lives of adults with congenital heart disease (CHD). ACHA serves and supports the more than one million adults with CHD, their families and the medical community. For more information about ACHA, contact 888-921-ACHA or visit achaheart.org.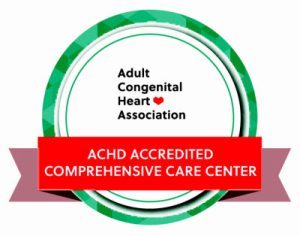 ACC Chest Pain Center with Primary PCI
The American College of Cardiology has recognized UCHealth University of Colorado Hospital for its demonstrated expertise and commitment in treating patients with chest pain.
UCHealth University of Colorado Hospital was awarded Chest Pain Center Accreditation with Primary PCI based on rigorous onsite evaluation of the staff's ability to evaluate, diagnose and treat patients who may be experiencing a heart attack.
Hospitals that have earned ACC Chest Pain Center with Primary PCI Accreditation have proven exceptional competency in treating patients with heart attack symptoms and have primary PCI available 24/7 every day of the year.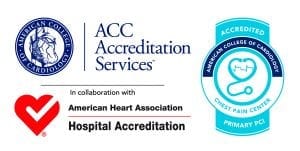 Get With the Guidelines – Heart Failure GOLD PLUS
The American Heart Association has recognized UCHealth University of Colorado Hospital for its continued success in using the Get With the Guidelines – Heart Failure program and applying the most up-to-date, evidence-based treatment guidelines to improve patient care and outcomes.

Get With the Guidelines – AFIB GOLD
The American Heart Association and American Stroke Association have recognized UCHealth University of Colorado Hospital for its continued success in using the Get With the Guidelines – AFIB program and applying the most up-to-date, evidence-based treatment guidelines to improve patient care and outcomes.