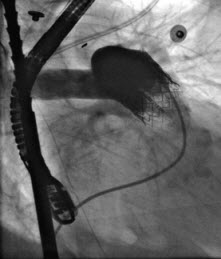 The UCHealth Structural Heart and Valve Clinic Anschutz Medical Campus at University of Colorado Hospital in metro Denver is a multidisciplinary initiative that pools the hospital's strengths in imaging, as well as interventional and surgical procedures.
The clinic offers patients and families an opportunity to meet in one place and at one time with specialists in a variety of disciplines to discuss options, weigh risks, ask questions and make better, informed decisions about repairing or replacing leaky, narrowed or diseased heart valves.
Model of care
A collaborative model of care
The rapid march of technology favors a collaborative model, says John Carroll, MD, director of cardiac interventions at UCH. "It's relatively rare for specialists to see patients together. But there haven't been many choices before," he noted. "Valvular heart disease was predominantly a group of conditions that needed open-heart surgery."
The advent of devices like the WATCHMAN™ Device, a left atrial appendage closure device that eliminates the need for long-term warfarin therapy for those with atrial fibrillation, the MitraClip®, a tiny, catheter-delivered clip that closes leaky mitral valves, and the investigational transcatheter aortic valve mean patients have more therapeutic options, Carroll added.
Yet more options mean patients need the expertise of both interventionists and surgeons to evaluate which is best for them.
Your visit
More time with specialists
A typical Valve Clinic visit is two hours, double the time of a regular visit. "It promotes the idea that patients and families can ask questions that they might not ask in a hurried environment where the physician is in and out in 15 or 30 minutes," Carroll said.
The TAVR program
The expert team at the Valve Clinic was one of the first heart programs in the country to perform transcatheter aortic valve replacement (TAVR) – a cutting-edge, minimally-invasive procedure that replaces damaged aortic valves in patients who are too sick for open-heart surgery.
While there are some surgical components to the procedure, they are minimal and less invasive than open-heart surgery, thereby reducing the recovery time required.
>> Go to the Edwards Lifesciences website to see an animation of this procedure.