Our electrophysiology program provides specialized care for your heart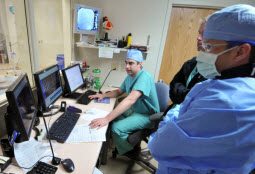 By testing the electrical activity of the heart, electrophysiologists can pinpoint where an abnormal heartbeat (arrhythmia) is coming from.
At UCHealth University of Colorado Hospital (UCH), our electrophysiology program is one of the top programs in the nation and the largest in the Rocky Mountain region.
Our dedicated specialists manage the most complex arrhythmias and perform the most advanced procedures. Our cardiac electrophysiology care team takes great pride in providing individualized, around-the-clock care for our patients and their families. Our physicians are leading clinicians and researchers in their field. They are also faculty members of the University of Colorado School of Medicine who train the next generation of arrhythmia specialists, so they are always on the forefront of new treatments for arrhythmias.
In addition, our program offers:
Twelve highly trained electrophysiologists—the largest team in the state and one of the largest programs in the country.
The largest catheter ablation volumes in the region, with an outstanding safety record.
Comprehensive and specialized atrial fibrillation (AFib) care for all patients, with access to the newest research and technologies, including left atrial appendage exclusion for prevention of stroke
Four dedicated electrophysiology suites with the most advanced technology.
Hybrid operating room for complex procedures involving cardiac surgery, including lead extractions, left atrial appendage and closure and surgically assisted ablation.
Nationally and internationally recognized center for treatment and ablation of ventricular tachycardia (VT) and premature ventricular contractions (PVC), leading advancements in multiple studies and technologies.
Lead extraction program with cardiac surgery collaboration.
Access to investigational and new technology for arrhythmia therapy.
Atrial fibrillation

Atrial fibrillation (Afib) is an abnormal heartbeat that causes blood to flow poorly, which can lead to heart failure or blood clots that can cause stroke. In fact, patients with Afib are five times more likely to have a stroke. Some sobering facts:
Afib impacts nearly 5 million Americans, with a projected rise to 16 million Americans by 2050.
Afib causes 450,000 hospital admissions per year.
Afib fibrillation is associated with a two-fold increase in mortality.
Get With the Guidelines – AFIB GOLD
The American Heart Association and American Stroke Association have recognized UCHealth University of Colorado Hospital for its continued success in using the Get With the Guidelines – AFIB program and applying the most up-to-date, evidence-based treatment guidelines to improve patient care and outcomes.
Ventricular tachycardia and premature ventricular contractions
Ventricular arrhythmias can have significant impact on overall health and survival, with severity ranging from isolated premature ventricular contractions (PVCs) to sustained ventricular tachycardia (VT) or fibrillation (VF). The most dreaded potential outcome of many of these presentations is sudden cardiac death (SCD), which affects as many as 450,000 Americans per year.
Treatment options
Implanted defibrillators are one means with which to manage and prevent SCD. However, other treatments are often needed to help manage these complex arrhythmias, particularly among patients with underlying heart disease. Catheter ablation has evolved as an effective means for controlling VT and VF, and the Cardiac Electrophysiology program at our clinic is recognized as one of the leading centers in performing these complex procedures, not only regionally but nationally and internationally.
Implanted cardiac devices
Our electrophysiologists implant all forms of cardiac devices, including implantable loop recorders, pacemakers, implantable cardioverter defibrillators, and cardiac resynchronization therapy devices. As recognized leaders in heart treatment, we introduced to the Colorado community technological advancements such as subcutaneous defibrillators, leadless pacemakers, and His bundle pacing.
We work closely with our Radiology colleagues to offer magnetic resonance imaging in patients with cardiac devices that are FDA approved. We also offer imaging in patients with non-FDA approved cardiac devices under certain circumstances.
Lead extraction
Rarely, components of the cardiac device system, such as pacing or defibrillator leads, can fail. Lead extraction may be indicated to address such failures.
Our lead extraction program harnesses shared-decision making among patients and providers. We use a multidisciplinary team, consisting of an electrophysiologist, cardiac surgeon, and anesthesiologist, to provide patients with optimal care, prioritizing patient safety.