We're arrhythmia specialists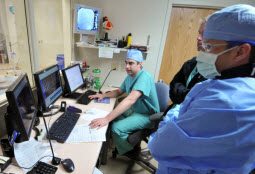 University of Colorado Hospital has one of the top arrhythmia and electrophysiology (EP) programs in the nation. We manage the care of thousands of patients not only from the Rocky Mountain region, but throughout the country.
Our program was the first in the state to offer the Stereotaxis Magnetic Navigation System, a more precise and safer treatment method for cardiac arrhythmias. The Stereotaxis system significantly reduces radiation exposure for patients, while lowering the risk of complications. Our team of experts is proud to set standards in cardiac care and offer our patients the most innovative treatments available. Learn more here.
Now non-valvular atrial fibrillation (NVAF) patients have an alternative to long-term warfarin therapy. The WATCHMAN™ Device reduces the risk of stroke for NVAF patients. UCHealth is the only system in the state to offer this new technology. Six weeks after the procedure, more than 95 percent of patients are able to stop their warfarin therapy. This one-time implant will not need to be replaced. UCHealth is the only health system in the state to offer the WATCHMAN Device.
Watch the video about this device
Conditions we treat
Atrial fibrillation (AFib)
Premature ventricular complexes (PVCs)
Ventricular tachycardia (VT)
Supraventricular tachycardia (SVT)
Ventricular fibrillation
Inherited arrhythmia syndromes
Syncope (fainting)
WATCHMAN™ left atrial appendage closure device
About your appointment
What to bring to your Cardiac EP clinic appointment
Your photo ID (driver's license, passport, state or military ID are acceptable)
Your insurance card
Past medical records related to your diagnosis
Clinic notes, test reports and imaging (CD) of any recent testing done at another facility
A list of your medications
Your referring physician's office information
Your primary care provider's office information
Questions for your doctor