UCHealth Medical Center of the Rockies
View map
We are open.
Your safety is our top priority while providing you with the highest level of care.
Hospital visitor hours are 8 a.m. to 8 p.m.
UCHealth Medical Center of the Rockies is a 166-bed regional medical center in Loveland, Colorado with a full spectrum of services and specializing in heart and trauma care.
Medical Center of the Rockies has two intensive care units, a birthing center and a special care nursery, a medical nursing unit, a surgical nursing unit, and full-service radiology and laboratory departments. The hospital is home to Air Link, UCHealth's emergency medical and critical care air transportation program.
Surgical services include general surgery, cardiothoracic, orthopedic trauma and neurological trauma. Robotic-assisted surgery also plays a prominent role in patient care. MCR also has an acute dialysis unit.
Whether you're a guest or a visitor at Poudre Valley Hospital in Fort Collins or Medical Center of the Rockies in Loveland (view the MCR patient guide), our goal is to deliver world-class care and customer service that exceeds your expectations.
Patient and visitor information
Admissions
Pre-admission appointment
Bring the following items to your pre-admission appointment:
A list of your medicines (prescription and non-prescription) you are currently taking, along with their dosage amounts and when you take them. You may bring the bottles or containers. Include supplements, vitamins, and herbs you routinely take. This medication form can help you create an up-to-date medication list.
Any forms you were asked to bring with you.
Your insurance information and Medicare card, if you have one.
A copy of your living will or advance directive, which will be placed in your medical record.
Once your doctor refers you for surgery or a procedure at Medical Center of the Rockies or Poudre Valley Hospital, your doctor's office typically will schedule a pre-admission appointment for you. This appointment is required before surgery.
Call 970.624.1500 as soon as possible to schedule your pre-admission appointment if your doctor's office has not done so already.
During this appointment you will:
Meet with an admissions clerk to verify that all paperwork is accurate
Learn the total out-of-pocket expense of your procedure
Meet with a pre-admission nurse who will explain what to expect the day of surgery and which currently prescribed medications can be taken before the surgery
You may also complete any required diagnostic tests after meeting with the nurse. Ask your doctor if you can eat or drink before your appointment.
The day of your procedure or surgery
Bring the following items on the day of your surgery:
Insurance card and/or prescription plan card, and current photo ID.
Any additional papers given to you by your doctor's office.
Other helpful tips
Leave your jewelry and valuables at home.
Wear loose-fitting clothes you can put on easily when it's time to leave.
Bring only a few personal items, such as a toiletry kit.
If you are having surgery and you need to bring a suitcase, leave it in your vehicle when you get here. It can be brought to your room later.
Care management
The Care Management team consists of Nurse Care Managers, Social Workers and Care Coordinators.  Our primary goal is to partner with you, your support person and your health care team to develop a discharge plan that will meet your ongoing care needs when you are ready to leave the hospital.
Please call 970.624.2500 and ask to speak with a member of the care management team.
Complaints and grievances
UCHealth Medical Center of the Rockies encourages you to ask questions about your care during your stay. If we don't meet your expectations or you have a specific concern during your stay, please let your caregiver know. You may also request to speak with the department manager or hospital supervisor.
Resolving a concern
If you feel that your complaint has not been promptly resolved to your satisfaction or if you verbalize your desire to file a written grievance, your request may be forwarded to our UCHealth Medical Center of the Rockies Patient Representatives.
Our Patient Representatives serve as liaisons between patients, the care team and the hospital. They provide a specific way to seek solutions, express grievances or ask questions. If, despite our best efforts, you or your family have problems or questions concerning your hospitalization, please call the Patient Representatives at 970.624.1335. 
Investigation
The Patient Representative will conduct a review of the grievance in collaboration with leadership from the area/unit at UCHealth Medical Center of the Rockies. The Patient Representative will provide you with a written response regarding the grievance investigation within a reasonable time.
Appealing the grievance
If you are dissatisfied with the outcome of the investigation conducted by the Patient Representatives, an appeal may be submitted in writing to the UCHealth Medical Center of the Rockies Chief Executive Officer (CEO) or his designee for an appeal review.
The CEO or designee will investigate and provide a written response of his/her findings within a reasonable time.  If you remain dissatisfied with the CEO or designee's response, you may appeal your grievance to the Colorado Department of Public Health and Environment. Information regarding the Colorado Department of Public Health and Environment's investigation will be directly communicated to the patient by the State.
You may also file a grievance directly with the Colorado Department of Public Health and Environment, Health Facilities Division or the Colorado Department of Regulatory Agencies. UCHealth Medical Center of the Rockies is also a Joint Commission-Accredited organization, which means patients may also contact the Joint Commission.
Colorado Department of Public Health and Environment
Executive Director Health Facilities Division 4300 Cherry Creek Drive South
Denver, CO 80246
Phone: 303.692.2800 or 800.886.7689, ext. 2800
The Joint Commission
Office of Quality Monitoring One Renaissance Blvd.
Oakbrook Terrace, IL 60181
Toll-free: 800.994.6610
Fax: 630.792.5636
Email: complaint@jointcommission.org
http://www.jointcommission.org/GeneralPublic/Complaint
For more information on the UCHealth Medical Center of the Rockies grievance process, please contact the Patient Representative Office at 970.624.1335 or mail a letter to MCR Patient Representative, 2500 Rocky Mountain Ave, Loveland, CO 80538
Concierge services
We would be pleased to assist you with reservations, referrals, information, errands and questions before or during your hospital stay.
Phone: 970.624.1854
Monday through Friday 7 a.m. – 7 p.m.
Saturday 9 a.m. – 4 p.m.
Sunday 10 a.m. – 4 p.m.
Location:
The concierge is located at the main level entry information desk on the first floor.
Using the concierge
We can help make your day easier with such services as:
Arranging discount accommodations for out-of-town guests.
Referrals and directions to local restaurants, parks, businesses, theaters and movies.
Scheduling haircuts
Getting clothes to the laundry or dry cleaners
Delivering you a newspaper, magazine or video in the hospital.
Mailing letters, cards and packages
Ordering flowers.
Personal shopping.
Calling for a taxi or shuttle service.
Gift wrapping.
Web searches for flights, weather and business information
Wheelchair assistance
Escorting guests to the cafeteria (on the lower level).
Sending faxes.
Clerical services (photocopying, mailings, etc.).
Meeting and assisting visitors for a patient.
Scheduling car wash and locksmith services.
Giving hospital tours.
Celebrating patient birthdays and anniversaries.
Helping arrange pet care.
Arranging for a therapeutic pet or clown visit in the room.
Notary, living wills, durable powers of attorney, etc.
Please note: Some services we provide may have a cost from an outside business. The concierge will discuss this with you.
Emergency Medical Services (EMS)
UCHealth EMS combines the latest technology and innovation to provide:
911 emergency ambulance services
interfacility transportation
critical care ground transport services
air medical operations
event medicine services
community paramedics
Food services
Medical Center of the Rockies offers a full cafeteria and coffee bar for your nutritional needs while visiting a guest.
Café 2500 – full-service cafeteria – Located on the lower level
Open from 6:30 a.m. – 7 p.m. seven days a week.
Medical Center of the Rockies Grill
Open seven days a week.
6:30 a.m. – 10:00 a.m.
11:00 a.m. – 2:00 p.m.
4:00 p.m. – 7:00 p.m.
Room service
Open from 6:30 a.m. – 9 p.m. seven days a week.
You may be able to select entrees from a menu, depending on your physician's order. Visitor trays are also available for $6, collected when the tray is delivered. Dial 970.624.7559 or x47559 within the hospital to order.
The Blend coffee bar
Located next to Café 2500. It serves coffee drinks, tea drinks and bakery items.
Vending machines 
Located around the corner from Café 2500 in the lower level of the hospital.
Interpretation and translation services
Please let any member of our team know if you would like an interpreter. Interpretation services are free and available 24 hours a day at UCHealth Medical Center of the Rockies.
Medical records
Visit My Health Connection to view your latest medical records online.
You may so request a printed copy of your medical records. UCHealth is required by law to obtain your written permission before releasing any copies. If you desire to receive a copy of your medical records.
Complete the Request for Medical Records form to make your pick-up request.
Parking
Parking is free in our patient and visitor lots. The main lot is on the west side of the hospital and the Emergency Department lot is on the north side. Just follow the signs from Rocky Mountain Avenue to the main entrance.
Stork parking
Parents-to-be can find easy, reserved 'Stork Parking' spaces near the Emergency Department entrance on the north side of the hospital. Use these parking spaces if you're in labor. One of our volunteers or staff will be happy to take you to the Birthing Center on the 5th floor.
Patient rights
Privacy (HIPAA) and your information
At your request we keep information about your hospital stay private and confidential, as required by federal law (the Health Insurance Portability and Accountability Act, or HIPAA).
One way we maintain your privacy is to set up a special password at your request. You tell us this password, which you may share with friends and family so they can find out how you're doing. When callers give us your password, we can update them on your progress. If callers don't know the password, we cannot tell them anything about your condition.
We'll write your password on a note card for you to keep.
Advance directives and living wills
We can help you complete a Living Will or other advance directive at your pre-admission appointment. These legal documents spell out the care you want — or don't want — in case you cannot make your own decisions and communicate them to us.
Pet policy
Only service animals and therapy animals are allowed at Medical Center of the Rockies.  Please contact a staff member if you have questions.
Preparing for your stay
What to expect when you arrive
At Medical Center of the Rockies, patients and families are our partners in health.
While you are at the hospital, "speak up" and let us know:
What you think
If you are worried about anything
What you may need
Our hospital is designed with you and your family in mind. While your hospital stay may not be easy for you, we intend to offer the very best care, emotional support and education throughout your time with us.
What to bring
A list of your current medications
A few personal belongings
Clothes to wear when you go home from the hospital
What not to bring
Items of great value to you
Going home
We want you to be fully prepared for going home. We will let you know an approximate date for discharge when you are admitted. If we don't share that with you, please ask us.
Security
Our security staff is here for you. If you're coming and going from the hospital late at night and would like an escort to your vehicle, ask your nurse to contact our officers.
Smoke and tobacco free campus
Smoking and tobacco products of any kind are not permitted anywhere inside or on MCR grounds.
Smoking products include any cigar, cigarette, pipes, or any smoking device or substance which is lighted and inhaled. This includes E-cigarettes.
Tobacco products include cigars, cigarettes, pipes, chewing tobacco, or snuff.
Spiritual care
If you need spiritual support, a hospital chaplain is always available to help. Chaplains provide spiritual encouragement and counsel as well as compassionate emotional support for people of all faiths.
Chaplain services
Call 970.624.1325 or ask your nurse to page the chaplain
The non-denominational chapel at Medical Center of the Rockies is available for prayer and meditation 24 hours a day. It is on the first floor down the north hall from the main lobby.
Transportation and lodging
Public transportation
Public transportation and taxi service are available to Medical Center of the Rockies. MCR does not provide transportation to or from the hospital.
Bus service
COLT bus service stops at MCR.   For more information, call 970.962.2700.
The COLT Paratransit Service offers door-to-door transportation services within Loveland city limits for people 60 and older, and individuals whose physical and/or mental disabilities prevent them from using regular fixed route service.
Taxi service
Yellow Cab taxi provides taxi service in Loveland, Fort Collins, Greeley and Longmont. Call Yellow Cab at 970.224.2222.
Lodging
Medical Center of the Rockies offers assistance with lodging options for out-of-town patients and their families. Our concierge service can help in advance with lodging.
Many local hotels offer rooms at a reduced rate and are located just a few minutes from Medical Center of the Rockies.
MCR does not provide transportation to and from the hotels, but some hotels have their own shuttle.
Visitors
Medical Center of the Rockies does not restrict visiting hours to certain times of the day.
Guests may receive visitors 24 hours a day. After 9 p.m. visitors can only enter the building through the emergency department entrance on the north side of the hospital.
Stop by the information desk inside the doors of the main entrance if you need assistance.
WiFi
Internet access
UCHealth Medical Center of the Rockies offers free internet access, our network is UCH-Visitor.
Remote care
Emergency Virtual Health
Emergency Virtual Health visits enable specialists to consult with local emergency room physicians via video conferencing to help with specific patient emergencies such as stroke or trauma.
UCHealth has a robust Telestroke program to help hospital ED physicians across the state of Colorado and southern Wyoming treat stroke patients in record time, saving every precious brain cell possible. Virtual Health allows neurology specialists to provide expert guidance to community hospital providers. These providers can now keep, and treat, many stroke patients they may not have been able to before.
If a patient needs more advanced care, we transport that patient to one of the country's best Comprehensive Stroke Centers.
Virtual Urgent Care
Visit with a physician by video using your computer, tablet or smartphone in the convenience of your home, office or location that is convenient for you. No drive time, no waiting room, no need to get out of your pajamas (if you don't want to).
You'll be seen and treated by a UCHealth medical professional just as if you were to visit seen face-to-face in one of our many health care facilities.
Virtual Urgent Care visits are scheduled in My Health Connection, UCHealth's patient portal. Log in or Sign up now to schedule a Virtual Urgent Care visit.
For the best experience, download the UCHealth app today.
Types of illnesses treated in a Virtual Urgent Care visit:
Allergic reaction.
Cold/flu.
Cough.
Diarrhea.
Cuts and scrapes.
Pink eye.
Rash.
Sinus infection.
Sore throat.
Urinary tract infection.
Vomiting.
Insurance
Your Virtual Urgent Care visit may be covered by insurance. However, if your health plan denies this charge you will receive a bill for this service.
Many health plans are adding virtual visits (telehealth) as a covered benefit.  However, there are some healthcare plans that do not cover virtual visits, such as Medicare.
For most insurance plans, we will attempt to bill your insurance- you may be responsible for your co-payment amount prior to seeing the doctor. However, if your health plan denies this charge you will receive a bill for this service. Also, please note that to bill medical insurance, a successful video connection must occur between the patient and the doctor.
Ways to give
UCHealth Northern Colorado Foundation
Volunteering
Share your time and talents by volunteering at  Medical Center of the Rockies or other UCHealth sites in northern Colorado. Hundreds of community members are volunteers. You'll make new friends, enjoy a change of pace, gain a new perspective, learn more about health care and, most importantly, you'll help the UCHealth effort to improve lives. Go to our main Volunteer page to find out more about volunteer opportunities at UCHealth facilities in Fort Collins, Loveland, Steamboat Springs, metro Denver, and the Colorado Springs area.
Recognition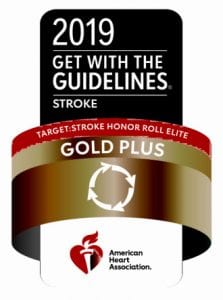 UCHealth Medical Center of the Rockies is recognized for reaching an aggressive goal of treating patients with 85% or higher compliance to core standard levels of stroke care as outlined by the American Heart Association/American Stroke Association® for 2 consecutive calendar years and for demonstrating 75% compliance to seven out of ten stroke quality measures. In addition, it is recognized for achieving Time to thrombolytic therapy ≤ 60 minutes in 75 percent or more of applicable acute ischemic stroke patients treated with IV tPA to improve quality of patient care and outcomes.