You might be surprised to learn that motor vehicle crashes are not the leading cause of trauma-related deaths for adults, according to the American Association for the Surgery of Trauma.
In fact, falls kill more people over the age of 65.
"Falls in older adults are mostly due to balance issues, so doing what you can to help improve your balance is important," said Kathleen Martin, trauma director for UCHealth in northern Colorado.
Although you can't control aging, you can address your physical activity, home environment, vision and medications in an effort to be safer and reduce balance issues. Here is what Martin, who has more than 30 years in the trauma field, says about fall prevention.
Exercise to improve balance issues and strength muscles
"A lot of people become sedentary because they are in pain," Martin said. "But balance issues can be helped by increasing flexibility, which increases the blood supply to the muscles and that increases the blood supply to the bones. So, movement can in fact help with pain."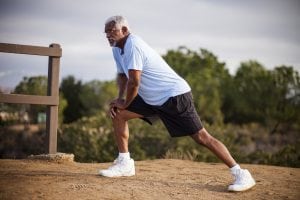 Walking is great cardio exercise, but other movements specifically focused on balance and strength need to be incorporated into one's routine. These exercises can make a big difference reducing balance issues, she said. And they can be done at home — or join a class. But make sure you consult with your doctor before starting any exercise regimen.
"You don't have to exercise like you did when you were young; you don't have to go for a run," Martin said. "But don't be scared to exercise. Getting into the water is a great, no-impact way to move, and there are lots of classes offered through recreation centers and UCHealth."
Throughout the Front Range, UCHealth provides classes that improve balance, including Tai Chi and Stepping On, both evidence-based fall prevention programs. If a full class doesn't yet seem attractive, then start with a quick and simple balance screening. Within a 20-minute appointment, a physical therapist will give you recommendations and a few exercises to start off with.
Make your home safer
"Do safety checks in your own environment," Martin said. "Make sure there are clear paths to the bathroom and get rid of those throw rugs."
Throw rugs, low-light hallways or rooms, clutter and uneven surfaces are just a few of the hazards that can cause falls. These types of hazards are sometimes easily overlooked but also are easy to fix. Use the CDC's Check for Safety home fall prevention checklist to help find and fix those issues before they cause trouble.
And consider what your options will be if you do fall in your home.
"Being isolated is another risk," Martin said. "According to the U.S. Census Bureau, 28 percent of people over the age of 65 live alone. Their isolation increases their risk of mortality. Having a way to contact someone is important. What is your lifeline?"
That lifeline could be having someone who routinely checks on you, wearing an emergency device in case of a fall, or making sure a phone is nearby in case you can't get up.
Talk to your doctor
One in four older adults will fall this year, but only 50 percent report them to their doctors, according to the CDC. And the chance of another fall increases each time you have one, so it's important to ask your doctor to help you evaluate your fall risk and balance issues.
Check with your doctor to see if there are specific things you may be able to do to lower that risk. Lower-body weakness, a vitamin D deficiency, foot pain and even medications can increase your fall risk.
Have your doctor or pharmacist review your medications
Some medicines, such as tranquilizers, sedatives or antidepressants, and even certain over-the-counter medications, can cause balance issues and how steady you are on your feet.
And some medications can adversely affect other medicines you may be taking. Bring a list of everything you're taking to your doctor and pharmacist for review.
If you're on blood thinners, provide a way for first responders to know so they can respond appropriately. That could be a bracelet or a "patient passport" that contains important medical information in a visible place in your home.
"You need to recognize that if you're on blood thinners, a simple fall can be serious," Martin said. "Always go to a hospital emergency room after a fall if you're on blood thinners, and go to one that is a designated trauma center if possible."
Designated trauma centers have protocols to fast-track fall patients who are on certain medications so they are seen quickly in emergency rooms.
UCHealth Memorial Hospital Central in Colorado Springs and UCHealth University of Colorado Hospital in Aurora are Level I trauma centers. UCHealth other hospitals also are designated trauma centers, including UCHealth Medical Center of the Rockies in Loveland, UCHealth Poudre Valley Hospital in Fort Collins, UCHealth Longs Peak Hospital in Longmont, UCHealth Memorial Hospital North in Colorado Springs and UCHealth Yampa Valley Medical Center in Steamboat Springs.
Have your vision checked
Having your eyes checked once a year by a doctor will ensure that you are seeing your best.
If you have bifocal or progressive lenses, the CDC recommends getting a pair of glasses with only the distance prescription for outdoor activities, such as walking. This is because progressive lenses can sometimes make things look closer or further away than they really are, distorting depth perception and increasing the risk of falls.
"In order to prevent injuries, seniors should focus on decreasing social isolation, keep a close network of family and friends while maintaining your independence in order to remain safe," Martin said. "Working on your balance skills, making sure your home is safe and increasing social interaction will help you be safe and independent longer."