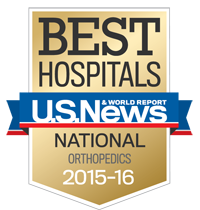 Nationally recognized orthopedics programs
When you experience pain or injury to your bones, joints or muscles, turn to UCHealth Orthopedics to get the relief you need.
At our multiple Front Range locations we offer the most advanced diagnostic and treatment techniques available, including minimally invasive orthopedic surgery, to get you back to your life and the activities you love.
UCHealth Orthopedics programs at both University of Colorado Hospital in metro Denver and Poudre Valley Hospital in Fort Collins are nationally ranked by Becker's Hospital Review.
Bone, joint and muscle conditions we treat
Our orthopedic physicians and specialists have extensive experience treating a variety of conditions affecting the musculoskeletal system, including, but not limited to:

ACL injuries
Arthritis
Carpal tunnel syndrome
Cartilage and ligament damage
Foot injuries
Hamstring injuries
Joint pain
Knee tendon bursitis
Lupus
Ligament & cartilage tears
Meniscus tears
Osteoporosis
Rotator cuff injuries
Shoulder dislocation
Sprains, strains and fractures
Tendonitis/Tendinopathy
Tennis elbow
Trigger finger
UCHealth also specializes in treating all disorders, injuries and illnesses of the back, neck and spine.
Learn more about orthopedic care in our online Health Library [to come].
Recent news in Orthopedics