Hours may vary at our Urgent care locations due to patient volumes, holidays, weather events or other factors. Please visit our Google listing for the most up-to-date information. Thank you.
---
No appointment is required to be seen by a highly trained, health care professional. Walk-in or reserve your spot in line and we'll text when it's time to come in. If you'd rather be seen in the comfort of your own home, take advantage of UCHealth's Virtual Urgent Care. We'll bill your insurance or you can elect a flat fee of $49.
We open at 8 a.m. seven days a week for your convenience. Walk in before work, or throughout the day. We have extended hours to help accommodate your busy schedule. Our trained medical providers are here to help you get to a healthy state as soon as possible. We take the time to ensure you're properly evaluated, get an accurate diagnosis, and are presented a complete treatment plan for your unique situation.
We're here to help you with your urgent care and workers' compensation needs.
Our walk-in clinic
Is walk-in friendly
Is open 7 days a week
Has extended open hours (holiday hours may vary)
Is in-network for most Colorado insurers
Has x-ray and lab onsite
Conditions treated
Sports physicals
Sports, school and camp physicals are available at UCHealth urgent care locations. Many states, including Colorado, require these exams annually or before participating in any type of physical activity at a school, camp or community organization.
Specific requirements vary, but during a sports or school physical, our healthcare providers will:
Review your child's medical history
Conduct a physical examination
Provide information on signs of concussion
Provide a summary of the visit to the child's primary care provider (if the visit takes place at an urgent care location)
Complete forms needed for sports or school participation (forms to be provided by parent/guardian)
Bring any required forms for the healthcare providers to complete. If your child wears glasses or contacts, bring those along to the exam as well. Minors must be accompanied by an adult chaperone or guardian and have parental/guardian permission.
We offer sports physicals for $30. Most sports, school or camp physicals are not covered by insurance. Payment by cash or credit card is required at the time of service.
Certified Urgent Care
The Certified Urgent Care designation means this location offers the same services, like onsite x-ray, during all hours of operation. We are also equipped to transfer patients who are in need of emergent care.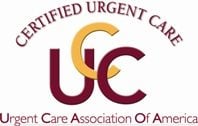 Occupational medicine
Employer services
Urine drug testing
Breath alcohol testing
Hair testing
Audiograms
Pulmonary function testing (spirometry)
Vision testing
Respirator fit examinations
Haz-Mat examinations
Lift testing
Vaccinations
Lab/blood draws
Physicals
Pre-employment
Post-offer pre-placement
Border patrol
Fit for Duty testing
OSHA
Worker's Compensation injury treatment and case management
Level II accredited, board-certified primary care and specialty providers
Aggressive return to work policy
Quality medical reporting with same day communication to employer and insurer
Extended hours, no appointment needed for initial injuries
Physical therapy on-site
Comprehensive substance abuse testing
Occupational surveillance