UCHealth University of Colorado Hospital's TomoTherapy Cancer Treatment Facility offers precision radiation using 3-D therapy for patients in metro Denver.
By scheduled appointment only.
TomoTherapy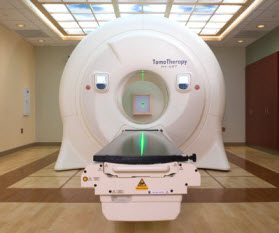 The TomoTherapy Cancer Treatment Facility offers precision radiation treatment through its advanced TomoTherapy® Hi-Art® system.
This system lets doctors see 3-D images of every patient, every day. Doctors check these images to precisely determine the size, shape and location of tumors before each treatment. This helps them direct radiation exactly where it should be – minimizing damage to surrounding healthy tissue.
Precision cancer treatment around you
TomoTherapy® radiation treatment is delivered similar to the way a CT obtains an image: by continually rotating around a patient.
However, the Hi-Art® system is not only capturing an image – it's also delivering a highly focused, intense beam of radiation to the cancer target area from multiple angles.
TomoTherapy assists physicians in developing highly precise treatment plans with minimized side effects for patients. The TomoTherapy machine at the new facility, operated by the University of Colorado Cancer Center, is one of only 120 in the world.
TomoTherapy features
The following features are what make TomoTherapy® the next step in directed radiation treatment.
Tomotherapy allows doctors to view the tumor or tumors in 3D. Most other technologies offer physicians only a 2D view. This means that patients can receive more accurate treatment with TomoTherapy.
TomoTherapy is a less invasive treatment. Some other technologies require a surgical implantation of metal markers into patients so that the machine can detect the target area. Tomotherapy does not.
Shorter treatment times for similar tumors. Treatment time for TomoTherapy is 10 minutes, including patient set up, image registration and correction.
Multiple tumors can be treated at one time with TomoTherapy. Other technologies require different treatments for each tumor. TomoTherapy treats the widest range of tumors and cancers.
Consistent doses. TomoTherapy delivers radiation in the most consistent doses which translates into fewer treatments and fewer side effects for patients.
TomoTherapy can treat tumors of all sizes. Other technologies have certain treatment ranges; outside of these ranges they lose their effectiveness increasing side effects and recovery times.
Services provided by University of Colorado Hospital.