UCHealth Memorial is pleased to welcome Ron Fitch to its senior management team, where he will serve as Vice President of Operations and Military Affairs for UCHealth's Colorado Springs region.
 Fitch, 46, brings more than two decades of leadership experience to UCHealth after retiring as a colonel and serving nearly 24 years in the military. Most recently he served as Garrison Commander at Fort Carson, where his responsibilities included public works, emergency services, security and all training apparatus on the post. His Army Special Forces background also includes numerous deployments to high-risk areas around the globe and several high-level positions centering on strategic and operational planning. Fitch holds master's degrees in strategic studies, international relations and engineering management.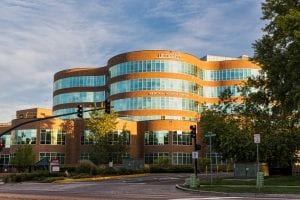 In his new role at UCHealth, Fitch will oversee clinical engineering; facilities management; planning, design and construction; emergency management; hospital security; and military affairs.
 "This is a tremendous opportunity for me. With a background in engineering, and experience in facilities and construction, I found the opportunity with UCHealth a great fit. My Special Forces background has also trained me well in security and emergency management," Fitch said. "UCHealth offers an exciting environment. Not only is it constantly growing and changing to advance health care offerings in the community, it's also committed to providing excellent experiences and the very best medical care for patients. I am excited to be part of this dynamic team."
Collaborating with local military
 Fitch also will be responsible for exploring collaboration opportunities with area military bases that will allow physicians, nurses and allied health professionals to continue to train at southern Colorado's only Level I trauma center. Such training opportunities ensure surgeons and others stay current in critical skills necessary to save lives in combat situations. He also will be UCHealth Memorial's representative on the Military Affairs Council, part of the Colorado Springs Chamber & EDC.
 "Col. Fitch was the unanimous choice for this position after an extensive search that included the input of board members, community leaders and health system managers," said Joel Yuhas, president and CEO of UCHealth Memorial. "Because the military is such an important part of the fabric of our community, this was an important addition to our senior management team.  Having his expertise on the team is an asset that will help us plan future UCHealth facilities in southern Colorado and ensure we are doing everything possible to support our men and women in uniform. Ron will help us explore training opportunities for military health care providers and also will be key in bringing new ideas to the table that will let us better serve the needs of our military community – both active service members and retirees."
 Fitch is deeply engaged in the local community as a board member and leader for the YMCA, the Colorado Springs Conservatory and TESSA. He and his wife Jennifer, who currently serves in the Air Force Reserve, have two children. "We are very happy to put down roots in Colorado Springs and raise our family in this beautiful and welcoming community."