Specialists in treating infectious disease
Infectious diseases are caused by germs that spread from person to person. Doctors who specialize in infectious diseases are trained to diagnose, treat, and help prevent them.
The infectious disease specialists at UCHealth in metro Denver are nationally recognized for their work. They provide compassionate patient care, serve our communities by educating the public, and conduct research to advance medical knowledge and find new and better ways of managing disease.
See infectious disease locations
Nationally recognized HIV/AIDS program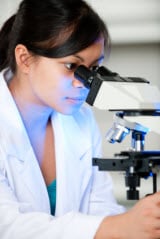 The HIV/AIDS Clinical Program at University of Colorado Hospital (UCH) provides comprehensive, multidisciplinary care and exceptional clinical outcomes for patients with HIV.
We offer PrEP at our Infectious Disease clinic at UCH. PrEP, which stands for pre-exposure prophylaxis, is a daily medicine regimen for people at risk of getting HIV. It is considered highly effective when taken as indicated.
We also offer access to experimental treatments through clinical trials and research with The Colorado AIDS Clinical Trials Unit (ACTU).
Infectious diseases we treat
Our multidisciplinary care team has extensive experience in diagnosing and managing a wide range of infectious diseases and provides access to the latest treatments.
Recent news in Infectious diseases