Comprehensive general surgery care.
My Health Connection: your online patient portal
We encourage all our patients to sign up for My Health Connection. This is your personal patient portal to request prescription refills, view your medical records or test results and to contact our office.
The board-certified general surgeons at UCHealth Surgical Clinic – Longs Peak Medical Center offer a broad range of basic and specialized inpatient and outpatient surgical services to children and adults.
With improved technology and advances in anesthesia and pain control, many less invasive surgical procedures are now being performed on an outpatient basis. Compared to inpatient surgery, outpatient surgery provides many patient benefits, such as convenience, lower cost, reduced stress, and predictable scheduling.
Our specialists are proud to serve the Longmont – Carbon Valley area and surrounding communities. We practice at UCHealth Longs Peak Hospital, Longs Peak Surgery Center, and at Broomfield Hospital.
Our bariatric surgery program
UCHealth Longs Peak Metabolic & Bariatric Surgery Program, established in 2018, is the only weight loss surgery program in Boulder County. Our goal is to provide surgical weight loss options to those who have struggled to lose and maintain significant weight loss with diet and exercise alone.
Our program provides minimally invasive surgical weight loss options for patients with a goal of improving overall health and lifestyle.
Our multidisciplinary program offers:
Dedicated bariatric dietitian and nurse navigator.
Monthly support groups.
Specially equipped private rooms.
State-of-the-art brand new facilities.
One on one visits with your surgeon, dietitian and nurse navigator to develop individualized care plans.
About bariatric surgery
Why it's done

Who it's for

To reduce your risk of potentially life-threatening weight-related health problems.
To lose excess weight.
To become more active.
To improve your quality of life.
To gain control of your health.

Weight loss surgery is offered to those who have been unsuccessful in losing significant weight and keeping that weight off with diet and exercise alone.

In general, weight loss surgery could be a treatment option for you if:

Your body mass index (BMI) is 40 or higher.
Your BMI is 35-39.9 and you have a weight-related health problem like diabetes, high blood pressure, elevated cholesterol, obstructive sleep apnea, and osteoarthritis to name a few.
Patients can expect to visit with our physicians 3-6 times prior to surgery over several months. This allows thorough education and support prior to the biggest event that someone struggling with their weight can make about their future health. Patients also regularly visit us after surgery for the follow up visits. We are committed to helping you obtain your goals in becoming a healthier you and will be with you for the entire process.
Services provided
Minimally-invasive Roux-en-Y Gastric Bypass (RNYGB).
Minimally-invasive sleeve gastrectomy.
Minimally-invasive revisional bariatric surgery.
Management of patients who already have a lap band placed including office evaluations, band fills, removing fills, and surgical removal of the band.
> Learn more about our weight loss procedures.
Support group
Studies show that weight loss surgery patients who participate in supports groups tend to do better after surgery. Our monthly support group is for all patients who have had weight loss surgery or are thinking about it. Friends and families are also welcome to attend.
Each support group is led by members of our weight loss team. These sessions offer educational topics, guest speakers, discussion of common concerns, support, understanding, encouragement, and a sense of community for all patients at various stages in their weight loss journey.
When and where. This support group is held on the first Monday of every month, from 6 p.m. to 7 p.m. at Longs Peak Medical Center. There is an option to join virtually to participate in the support group if you are unable to attend in person.
Call us at our clinic number above to find out more.
Bariatric surgery: patient testimonials
Click an image below to open the full-page testimonial.
Scheduling
After your provider has referred you to our practice, our care team will call you to schedule your appointment.
Please provide all the following information at your scheduled appointment:
Please arrive 20 minutes before your scheduled appointment to allow enough time to complete the check-in process.
If you have any scheduling questions, or questions about your surgery, please call our office.
Awards and recognition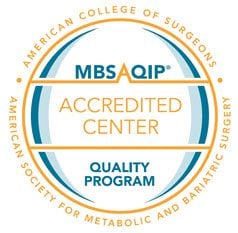 Our Bariatric program is designated as an Accredited Comprehensive Center of Excellence for bariatric surgery, recognized by the (MBSAQIP) Metabolic and Bariatric Surgery Accreditation and Quality Improvement Program by the American College of Surgeons (ACS).
The MBSAQIP accreditation recognizes the high level of patient care delivered and excellent outcomes provided by our doctors, nurses and staff.