The pain in her lower-right pelvis started when Amy Hansen was about five weeks pregnant.
It was attributed to an ovarian cyst, a painful condition but not one to be too concerned about. Ovarian cysts can occur during pregnancy, she was told, and it's often not a problem. Her doctor drained the cyst.
"But it continued to grow," Hansen said, "and grow more painful."
Eleven weeks into her pregnancy, her doctor sought to remove it. It was during the procedure they discovered the 10-centimeter tumor. The surgeon removed her right ovary and sent the tissue in for pathology.
A week later, Hansen was told the sample was determined to be a stage 1, grade 2 immature teratoma, she said.
"It's actually the equivalent of testicular cancer in women," said Dr. Diana Medgyesy, an oncologist in the Cancer Care and Hematology Department of UCHealth Northern Colorado's Poudre Valley Hospital.
Simply put, Hansen had a rare form of ovarian cancer. The tumor had been removed, but Medgyesy told her more treatment would be needed. Hansen left her first appointment overwhelmed and in tears.
"I was bawling my eyes out because I was told I was going to need chemotherapy," Hansen said. "The words that came out of my mouth were, 'I'm sorry, but you know I'm pregnant, right?'"
The drugs she would need — a cocktail of bleomycin, etoposide and cisplatin — are designed to attack and knock out rapidly dividing cancerous cells. But the drugs don't discriminate. The other cells in her body that divide quickly, such as her hair follicles, would also be attacked.
She worried about her growing baby. This was Hansen's first child, the baby she and her husband, Andy, had been dreaming about since they got married. It didn't seem like chemotherapy would be something she could undergo as a pregnant woman.
She sought a second opinion. And a third. Both agreed with Medgyesy. With chemotherapy, her recurrence rate would be extremely low after three years. And if it started in the second trimester, after the child's organs had developed, the baby would be unharmed.
Medgyesy knew Hansen was scared and needed reassurance.
She started sending Hansen research showing that chemotherapy doesn't have negative effects on neonates. She shared studies that concluded babies born to mothers who received chemo had normal Apgar scores, and older children who had been in the womb when their mothers were treated developed normally.
Hansen started her nine-week chemotherapy regimen when she was 15 weeks pregnant.
She cherished the moments when her pregnancy felt normal. She thumbed through baby books and registered at Babies R Us and Target. She was the guest of honor at baby showers that her family and friends hosted for her.
But chemo left her exhausted, without an appetite and suffering from severe acid reflux. She was bald and didn't really want to be seen. Only reluctantly did she have maternity photos taken, knowing her son would want to see them one day.
"Thoughts of mortality at age 28 definitely crossed my mind," Hansen said. "But just being a very positive person, it was like, 'You know what? I'm going to make a plan, and we're going to take it one day at a time.' I chose not to look back. We made a decision to go forward with the treatment because we were choosing life for myself and my son."
Both mom and baby were watched closely. During one chemotherapy session, she had a reaction to a medication that caused her to flush bright red. The oncology nurses swooped in on her immediately.
"The team I had was very protective of me. They probably monitored me more closely than anyone else in the chemo lounge," Hansen said. "I was so confident in my team that I never really second-guessed anything."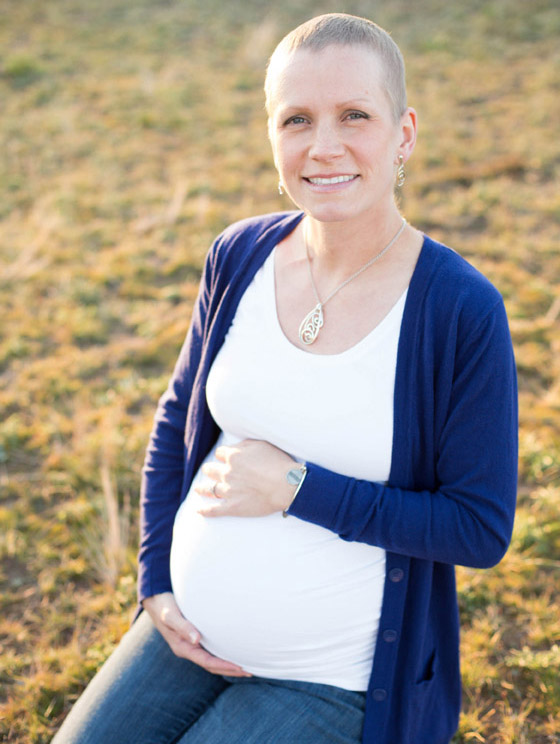 Her son was monitored through frequent high-resolution ultrasounds with a Maternal Fetal Medicine specialist. She drew comfort from seeing her baby on the screen, hearing his little heartbeat. Every kick offered reassurance.
She completed her treatment at 24 weeks' gestation. On Nov. 19, 2013, with hair only a half-inch long, she finally heard the sound she'd been waiting for — her son's cry.
Gavin Michael Hansen, born 6 pounds and 19.5-inches long, was healthy.
Two and a half years later, "he's talking a ton, he's a ball of energy, he's just perfect," Hansen said. And she's pregnant again, this time with a baby girl.
She had some initial anxiety with that conception, but she's had a normal, healthy pregnancy. The only weird part, she says while laughing, is she doesn't get to have as many ultrasounds.
It's still hard for her to wrap her head around receiving chemotherapy while pregnant. But it's a message she wants other women to know — that they can be treated.
"It's almost otherworldly," she said. "You can't drink alcohol when you're pregnant, but you can have chemo? It's still wild for even me, who has gone through it.
"Dr. Medgyesy and the oncology nurses — I truly believe they are angels on earth," she said. "I want more people to understand that they don't have to choose between life for them or their child. They can be treated during their pregnancy."