Health management programs
Providing participants with the skills necessary to set realistic goals and solve problems related to ongoing health issues.
Please read the program descriptions below to see what programs might interest you.
EnhanceWellness®
Taking the first step is difficult. We know. We're here to help.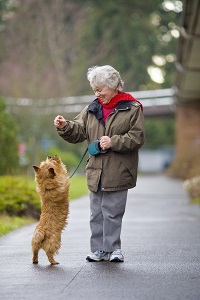 If you have a chronic condition, or feel you are losing control of your health, the idea of feeling well may seem like only a dream. When pain, fatigue, medications and doctor visits rule your life, realizing that dream can be difficult.
The EnhanceWellness® program is a proven, evidence-based program, full of tools to help you gain confidence and empower you to make changes and better manage your health or chronic condition. You may benefit from the EnhanceWellness® program if you have one or more of the following conditions:
Anxiety
Arthritis or rheumatic disease
Chronic pain
Depression
Diabetes or pre-diabetes
High cholesterol
Hypertension
Sensory impairment
Our EnhanceWellness registered nurse and registered dietitian team gives you guidance, education and support to make positive changes in nutrition, weight management, medication management, physical activity, symptom management and mental health.
The result: more days of feeling great and increased self-confidence and empowerment.
View/download EnhanceWellness® overview
Contact or enroll
Our EnhanceWellness certified nurse-coach gives guidance, education and support to help you make positive changes in nutrition, weight management, medication management, physical activity, symptom management and mental health.
The result: more days of feeling great and increased self-confidence and empowerment.
This is a FREE program. Enrollment is ongoing. Contact Julie Knighton to get started or ask any questions you may have.
For questions or to enroll, please contact:
Julie Knighton, MSN, RN, NC-BC
[email protected]
970.495.7335
Living Well
Classes are held for two and a half hours once a week for six weeks and are facilitated by two trained leaders. You'll receive program materials, useful tools and resources. There is no fee for this program.
Living Well Class Options
Living Well with Your Lifelong Health Conditions
Living a healthy life with one or more chronic conditions involves learning self-management skills to help you function at your best regardless of your chronic condition. This class gives you practical skills and tools to help manage symptoms, set goals, problem solve, stay active and enjoy life.
Living Well with Diabetes
Would you like to increase your confidence and problem solving skills to better manage your diabetes? This six week program does not replace services from a diabetes educator. You'll learn goal setting, problem solving and tools to help you manage your diabetes and prevent or delay serious complications. Resource book included.
Living Well with Chronic Pain
Living with chronic pain is a daily challenge. This six week class presents different techniques and tools to help you better manage your pain so that pain doesn't control your life. You'll learn tips to help you better manage your symptoms and become more active and involved in life. Workbook included.
Cancer: Thriving and Surviving
Are you a cancer survivor who is interested in not just surviving, but thriving? Participants completing our program have called it "life changing," "empowering," and "the push I needed to take charge of my health." Participants will learn a variety of self-management skills that are specific to cancer survivors.
Search for classes
View/download Living Well brochure
For more information or to enroll:
Ellen Pihlstrom, Health Educator
Send email
Or call Ellen at 970.495.7509
UCHealth
Community Health Improvement Department
1025 Garfield, Suite A
Fort Collins, CO 80524
Am I Hungry?® mindful eating program
This is an eight-week licensed program designed to introduce a new way of thinking about eating and physical activity. It is useful for those who would like to change eating habits or for those who have struggled with yo-yo dieting and would like to break free of the eat-repent-repeat cycle.
This class series is being offered in revolving two week segments through the Aspen Club. For details, see the Aspen Club News newsletters on this page.
In this class, you'll learn how to:
Be in charge of your eating instead of out of control.
Eat the foods you love without guilt.
Understand the truth about nutrition without confusing, arbitrary rules.
Use mindfulness practices to pause before making eating decisions.
Increase physical activity and fitness without feeling intimidated.
Program information, registration
Contact for questions:
Deanna O'Connell, RD
[email protected]
970.495.7523
UCHealth
Community Health Improvement Department
1025 Garfield, Suite A
Fort Collins, CO  80524
Healthy Eating for Successful Living
Healthy Eating for Successful Living in Older Adults™ is a program for adults who want to learn more about nutrition, physical activity, and lifestyle changes.
The program focuses on heart health, bone health and nutrition strategies to help maintain or improve wellness and prevent chronic disease development or progression.
This workshop is conducted over six sessions, meeting for 2.5 hours per session.
Week 1: MyPlate™, 2015 dietary guidelines, label reading and exercise.
Week 2: Grains, vegetables, fruits, water and exercise.
Week 3: Protein, eggs, legumes, dairy and exercise.
Week 4: Fats, oils, sweets and exercise.
Week 5: Applying our skills: Grocery shopping.
Week 6: Putting it all together: Meal preparation or cooking demonstration.
You can register here or contact the Aspen Club.
Mind Over Matter, Healthy Bowels, Healthy Bladder
This class is designed to:
Empower participants.
Improve their quality of life.
Create awareness about the importance of fiber intake, fluid intake, what beverages to limit or avoid to decrease bladder irritation.
Teach several types of pelvic floor exercises to strengthen the hammock of muscles that support the bladder, uterus and colon.
Often, issues with incontinence are issues with the pathway from the brain to the bladder. Using a self-efficacy framework, participants are empowered to look for ways to solve issues with incontinence and seek help from providers when needed.
If you're not sure if you're getting enough fiber, fluids or how to do pelvic floor exercises correctly, this class can help. Go to our Events and classes page to find upcoming classes.
If you would like to learn more about the program, you can visit the Wisconsin Institute for Healthy Aging Mind Over Matter website.