The UCHealth Surgical Weight Loss Center at Anschutz in metro Denver is a comprehensive program, providing a full range of minimally invasive surgical weight-loss options for patients with a goal of improving overall health and lifestyle.
The procedures we offer include gastric bypass, gastric sleeve and gastric banding. Our Center is designated as an MBSAQIP Accredited Comprehensive Center with Adolescent Qualifications and recognized by the Metabolic and Bariatric Surgery Accreditation and Quality Improvement Program.
We have also been recognized by Anthem, Optum (United) and Aetna as centers of excellence for meeting or exceeding their rigorous performance standards and quality guidelines.
Our program treats all types of patients, including adolescents (14-18 years old). Our Surgical Weight Loss Center team collaborates with physicians from Children's Hospital Colorado to evaluate these candidates, and work closely with them and their families to determine if surgery is the right option.
About your appointment
Here's what to bring to your appointment
A packet of information will be mailed to you prior to your appointment. Please complete all the forms in the packet.
We will ask you to obtain all medical records pertaining to health problems associated with obesity and bring them with you to your appointment. These records will help establish medical necessity with your insurance company.
Note: Before getting approval for weight loss surgery, we require that patients complete a nutrition class and a comprehensive psychological evaluation.
Take the first step
The first step to becoming a patient is attending our informational seminar.
The seminars occur on the first and third Wednesday of every month from 9 to 10:20 a.m. The seminar is free, but registration is required.
Please call 720-848-2070 to register.
Program overview
Our team
Our world-class team includes surgeons, a nurse practitioner, registered nurses, a program psychologist, registered dietitians, physical therapists/personal trainers and support staff.
Program overview
Our multidisciplinary program offers:
Fellowship-trained, board-certified bariatric surgeons
Dedicated bariatric nurse practitioners and dietitians
Nutrition classes
Clinical trials to emphasize weight loss through life changes
Post-operative support groups
Post-operative skin fold surgeries
Specially equipped private and semi-private rooms
State-of-the-art facilities
Pre/Post operative physical therapy and training
Accredited for adolescent treatment
Awards and recognition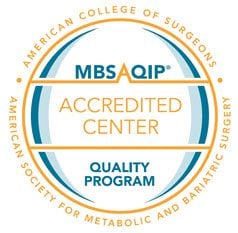 UCH's Surgical Weight Loss Center is designated as an Accredited Comprehensive Center with Adolescent Qualifications, recognized by the (MBSAQIP) Metabolic and Bariatric Surgery Accreditation and Quality Improvement Program by the American College of Surgeons (ACS). The MBSAQIP accreditation recognizes the high level of patient care delivered and excellent outcomes provided by our doctors, nurses and staff.