The UCHealth Surgical Weight Loss Center at Anschutz in metro Denver is a comprehensive program, providing a full range of minimally invasive surgical weight-loss options for patients with a goal of improving overall health and lifestyle.
The procedures we offer include gastric bypass, gastric sleeve and gastric banding. Our Center is designated as an MBSAQIP Accredited Comprehensive Center with Adolescent Qualifications and recognized by the Metabolic and Bariatric Surgery Accreditation and Quality Improvement Program.
We have also been recognized by Anthem, Optum (United) and Aetna as centers of excellence for meeting or exceeding their rigorous performance standards and quality guidelines.
Our program treats all types of patients, including adolescents (14-18 years old). Our Surgical Weight Loss Center team collaborates with physicians from Children's Hospital Colorado to evaluate these candidates, and work closely with them and their families to determine if surgery is the right option.
Take the first step
The first step to becoming a patient is attending our informational seminar.
To register
Look for "Surgical Weight Loss Informational Seminar" at the UCHealth Anschutz Inpatient Pavilion.
Select the "Register" button.
After you register, you will be emailed an invitation to the virtual seminar to your personal email address. You will also receive a Patient Information Packet (PIP) and a food journal. Please print these items out if you can, complete them and bring them along to your first appointment with our surgical weight loss team.
Body Mass Index (BMI) Calculator
The bathroom scale can indicate that you might be overweight, but experts say you should also know your body mass index (BMI). The button link below opens a simple BMI calculator in a new window.
Program overview
Our team
Our world-class team includes surgeons, a nurse practitioner, registered nurses, a program psychologist, registered dietitians, physical therapists/personal trainers and support staff.
Program overview
Our multidisciplinary program offers:
Fellowship-trained, board-certified bariatric surgeons
Dedicated bariatric nurse practitioners and dietitians
Nutrition classes
Clinical trials to emphasize weight loss through life changes
Post-operative support groups
Post-operative skin fold surgeries
Specially equipped private and semi-private rooms
State-of-the-art facilities
Pre/Post operative physical therapy and training
Accredited for adolescent treatment
Frequently Asked Questions
Your appointment
Here's what to bring to your appointment
After you have attended a seminar, please call 720.848.2070 to schedule your initial consult if you are interested in pursuing surgery.
Please bring in your completed PIP (patient information packet) and 3-day food journal. These were emailed to you as part of your seminar registration.
If you have lost your copies, please email us at SWLintake@uchealth.org and we will email you another copy.
We will ask you to obtain all medical records pertaining to health problems associated with obesity and bring them with you to your appointment. These records will help establish medical necessity with your insurance company.
Note: Before getting approval for weight loss surgery, we require that patients complete a nutrition class and a comprehensive psychological evaluation.
Support groups
Attending a support group is a great opportunity to meet others who have had, or are planning to have, bariatric surgery. You can also learn about various topics of interest from expert guest speakers.
We are now holding all of our 2020 monthly support group meetings virtually!
How to register
Find weight loss support group listings, and sign up.
Awards and recognition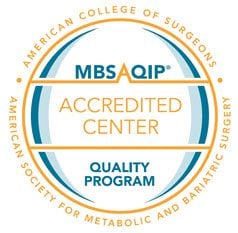 UCH's Surgical Weight Loss Center is designated as an Accredited Comprehensive Center with Adolescent Qualifications, recognized by the (MBSAQIP) Metabolic and Bariatric Surgery Accreditation and Quality Improvement Program by the American College of Surgeons (ACS). The MBSAQIP accreditation recognizes the high level of patient care delivered and excellent outcomes provided by our doctors, nurses and staff.
Patient testimonials
Angel MattenAmber Kois
Angel's positive changes are both mental and physical.
The UCHealth Surgical Weight Loss Center has helped Angel develop a healthy relationship with food and has led to positive changes both mentally and physically. Angel says, "as much change as you see on the outside, the internal growth is much bigger." Prior to surgery, she says "I look back at pictures of myself and I see a big smile on my face and know the pain behind it. I spent a lot of my life hiding behind weight."
Since weight loss surgery, Angel has seen the power in making good decisions for herself and says, "I will always carry a part of the sad 394lb woman inside of me. She taught me a lot about how easy it is to hide, and also about how determination and breaking cycles can lead to a freedom I never thought possible for me."
Amber's surgery changes her outlook on life.
After all the dieting and working out with so little to show for it, all the countless years of trying and countless tears not drying, Amber finally (in December of 2018) broke down and confessed to her doctor, "I just can't do it on my own." It was at that point that her doctor introduced her to the UCHealth Surgical Weight Loss Center.
Amber never believed that she could ever undertake a surgery of this magnitude or put herself through this "bother" simply for herself, but with the support of the Surgical Weight Loss Center, she felt empowered. Suddenly, with this newly found support, she felt confident in undertaking this personal journey to not only improve her life as it stands currently, but to change her outlook on life moving forward.
After the Surgical Weight Loss Center answered Amber's questions and addressed her concerns, all options were laid out. Once Amber met her surgeon, she felt completely at ease and knew her life was about to change for the better, forever. While she will admit that this has been one of the most challenging (and rewarding!) experiences of her life, she can look back now and find it difficult to imagine where she once was and where she finds herself today. She looks at old photographs when her weight, at its highest point, was 332 pounds; yet as she looks in the mirror today, she can proudly proclaim to herself that she will never be THAT person again.