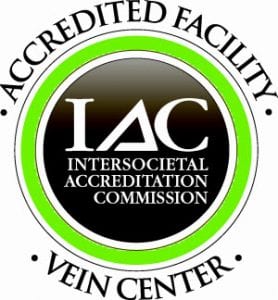 Treating each patient with the highest level of vein and vascular care.
At UCHealth Vein and Vascular Surgery Center – Memorial Hospital North, we evaluate and treat all conditions affecting the vascular system (arteries and veins) with a team of vascular surgeons who are highly specialized and board certified to specifically treat vascular disease and disorders.
When it comes to vein disease care, severe or not, insist that your care is provided by a board-certified vascular surgeon at a leading Colorado Springs vein IAC-accredited center. No other physician specialty receives more direct vascular-specific evaluation and treatment training than a vascular surgeon.
Our vascular surgeons are board-certified by the American Board of Surgery (ABS). A vascular surgeon is specifically trained to evaluate and treat disease and disorders affecting the vascular system (basically, the arteries and veins outside the heart).
Additionally, our vascular surgeons play an integral role in Level I trauma and emergency care at Memorial Hospital, one of the busiest in the nation. That lets you know that you're receiving care from the most highly trained and experienced vascular surgeons.
Conditions we treat
We offer complete care for all vein disease conditions. Our procedures include medical therapy, and minimally-invasive catheter and phlebectomy procedures.
Abdominal aortic aneurysm
Carotid artery disease
Claudication
Deep vein thrombosis
Leg pain and leg swelling
Peripheral vascular disease
Raynaud's Phenomenon
Renal vascular disease
Spider veins
Varicose veins
We're varicose vein experts
Varicose veins are caused by increased blood pressure inside the superficial leg veins. Two main types of veins are present in the legs. Superficial veins are near the surface of the skin, whereas deep veins are located in the muscle tissue. Varicose veins occur in the superficial veins in the legs. In contrast, deep veins lead to the vena cava, a large vein that transports blood to the heart.
Spider veins, a milder type of varicose veins, are smaller than varicose veins and often look like a sunburst or 'spider web.' They are red or blue in color and are commonly found on the face and legs, just under the surface of the skin.
While varicose veins are not considered a severe medical condition, they can be uncomfortable and can lead to more serious problems such as phlebitis (inflammation in the leg) or blood clot. Varicose veins can also be a cosmetic concern to some people.
Symptoms of varicose veins
The following are the most common symptoms of varicose veins. However, each individual may experience symptoms differently. Symptoms may include:
Color changes in the skin
Sores or non-healing wounds (ulcers) on the legs, ankles or feet
Rash
Sensations in the legs, such as pain, a sense of heaviness, burning, and/or aching
Severe varicose veins may eventually produce long-term mild swelling that can result in more serious skin and tissue problems, such as ulcers and non-healing sores.
The symptoms of varicose veins may resemble other medical conditions or problems.
Risk factors
The risk of varicose veins is strongly related to age and gender. The following are suggested risk factors for varicose veins:
Obesity – A major risk factor for varicose veins. Excessive weight increases the pressure on the veins of the legs and aggravates the condition.
Family history – Heredity is important in determining susceptibility to varicose veins, but the specific factors responsible for this have not been identified.
Inactivity – Prolonged standing or sitting increases pressure in the veins.
Gender – Women are particularly susceptible to varicose veins because of the influence of progesterone on the veins and the effects of pregnancy. Women are 2-3 times more likely to have varicose veins.
Pregnancy – Pregnant women have an increased risk of developing varicose veins due to the hormonal influences of pregnancy on the veins, but the veins often return to normal within one year of childbirth. Women who have multiple pregnancies may develop permanent varicose veins.
Age – Varicose veins usually affect people between the ages of 30 and 70. With advancing age, the elastic shell of the vein begins to weaken, increasing the chance that the vein will dilate.
Varicose vein treatments
Treatment for varicose veins involves both surgical and nonsurgical approaches. Nonsurgical methods for treating varicose veins include:
Elevation of the legs – If you have mild to moderate varicose veins, elevating your legs can help reduce leg swelling and relieve other symptoms.
Compression stockings – These elastic stockings squeeze or compress the veins and prevent blood from flowing backward. In addition, compression stockings may help with healing of skin sores and prevention of additional sores. Compression stockings are effective in treating varicose veins if worn daily and may prevent the need for more invasive treatment.
Sclerotherapy – The most common treatment for both spider and varicose veins. This procedure involves a saline or chemical solution that is injected into the varicose veins that causes them to harden so that they no longer fill with blood. Blood that would normally return to the heart through these veins returns to the heart by way of other veins. The veins that received the injection will eventually shrivel and disappear. The scar tissue is absorbed by the body.
Laser treatment – A type of treatment for varicose veins. Until recently, laser treatment was mainly used for treatment of spider veins on the face. However, newer laser technology can now effectively treat varicose veins as well. There are several types of lasers that may be used to treat varicose veins. The physician inserts a tiny fiber into a varicose vein through a catheter. The fiber sends out laser energy that destroys the diseased portion of your varicose vein. The vein closes and your body eventually absorbs it.
Ablation – Involves the insertion of a thin, flexible tube called a catheter inserted into a varicose vein. The tip of the catheter heats the walls of the varicose vein and destroys the vein tissue. Once destroyed, the vein is no longer able to carry blood and is absorbed by your body.
Surgical approaches to the treatment of varicose veins include:
Vein stripping – This procedure involves tying off all varicose veins associated with the leg's main superficial vein and removing it from the leg. The removal of veins from the leg will not affect the blood circulation in the leg as deeper veins will be able to take care of the increased blood circulation.
Small incision avulsion – This procedure involves passing hooks through small incisions, and may be done alone or together with vein stripping.
Transilluminated powered phlebotomy – This vein removal procedure makes use of a bright light to illuminate the vein. A device is passed through a tiny incision and removes the vein with suction.
Scheduling
Please call our office to schedule your appointment.
At your scheduled appointment, please provide all the following information:
Insurance card
Photo ID
Referral (if needed)
To allow enough time to complete your check-in process, please arrive 15 minutes before your scheduled appointment.
We request a 24-hour advance notice if you cannot make it to your scheduled appointment. If you have young children who will be accompanying you to your appointment, please bring another adult with you to sit with the children during your time.