Stripped bare, the goals of value-based health care are refreshingly simple. Improve the quality of care while reducing cost. Oh, and improve the patient and provider experience. That's it.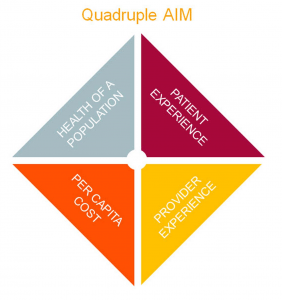 And on the seventh day, go ahead and take a rest.
It's hardly a news flash, but changing the present system – still highly fragmented and volume-driven – to one committed to meeting these lofty goals isn't quite so easy. But the federal government, a growing number of commercial payers, and hospitals and health care systems around the country are trying to pivot the multi-trillion-dollar goliath toward an approach that rewards those who do best at achieving superior clinical outcomes, safety, efficiency, quality, and satisfaction.
With this in mind, UCHealth and University of Colorado Medicine are launching UCHealth Integrated Network. It includes three dozen of UCHealth's primary care practices in Colorado. CU Medicine, the organization that represents the faculty of the University of Colorado School of Medicine, is an "equity partner" with UCHealth in launching the network, said Charles Baumgart, MD, UCHealth's chief medical officer for population health.
CU Medicine represents the participating practices in the Denver metro area, while UCHealth Medical Group, Associates in Family Medicine and Family Medicine Center represent those in northern and southern Colorado. Clinicians with CU Medicine will also receive support from the Office of Valued Based Performance, which assists clinicians with coordinating transitions of care, notifying patients of needed tests, and other tasks essential to managing their health.
The network will be part of Comprehensive Primary Care Plus (CPC+), an eight-state initiative of the Center for Medicare and Medicaid Innovation (CMMI) that includes nearly 3,000 practices. It encourages primary care practices to deliver coordinated care that meets the particular needs of the patients they serve – from the healthiest to those with complex, chronic conditions.
Dollars down
The program follows CMS's four-year Comprehensive Primary Care Initiative (CPC), a kind of test run for the concept that payers and providers can work together to share data, tighten care coordination, improve quality and manage costs for defined groups of patients.
A number of UCHealth practices participated in the CPC initiative and are among the 36 practices in UCHealth Integrated Network chosen to participate in the first round of CPC+, which CMS plans as a five-year project. The participants will receive per-member-per-month payments from CMS to support practice changes that address patient access, care management, care coordination, patient and caregiver engagement, and population health.
The strength of both CPC and CPC+ is that they replace long-expressed lip-service support for health care reform with solid financial backing, said Travis Sherman, UCHealth's vice president of Population Health.
"There is more support for practices and more payments available to fund their infrastructure," Sherman said. "Primary care is at the center, with additional resources to help measure our performance across populations of patients."
Meeting needs
For example, he noted, participating practices will receive per-member-per-month care management fees to help them make changes necessary to manage their patients' health. At the same time, physicians in most CPC+ practices will receive their usual fee-for-service Medicare payments.
The financial support doesn't mean that practices will go it alone. They will receive administrative support and guidance for their work through UCHealth's Population Health Services Office (PHSO).
"Our job is to look at our practices and help them to decide what resources they need to adhere to value-based arrangements," said Michelle Nauta, manager of practice transformation for the PHSO.
Those needs will vary, Nauta said – from staffing to consultation about process improvement strategies to education about the data-collection requirements for practices participating in CPC+.
"That's up to the practice," Nauta said. "Their staff and providers know their populations, their culture and the nuances of the practice."
Talking Timberline
One such practice is UCHealth Primary Care Clinic – Estes Park, which reduced the total cost of patient care during its participation in CPC, said Paul Fonken, MD. Fonken is one of the practice's three physicians. From the first quarter of 2013 through the second quarter of 2016, Timberline reduced the average total cost of health care more than $100 per member, per month for its Medicare patients, a, a15 percent reduction.
The major savings were in inpatient costs. Fonken attributed that to staff and providers putting more time and resources into managing patients' needs in the outpatient setting. A key to that, he added, was bringing on a care manager: a nurse practitioner who focuses particularly on the needs of patients at high risk of making avoidable trips to the hospital or ED. But medical assistants and front-desk receptionists chip in as well, working with patients to making sure they got their Medicare wellness exams, staying on top of needed tests and helping with follow-up, Fonken noted.
"The CPC helped us move along to team-based care," he said. "Having the data to track how we are doing has also been good. We've been able to stratify our risk and focus on the patients who need care the most."
The Timberline success "calls out the importance of awareness of preventive care and proactive outreach" to patients, said DeeAnn Bannister, RN, quality improvement manager for transformation and innovation for UCHealth Medical Group. That requires time and commitment from the practice, she said.
"The burden is on us to create relationships with the patients and families in our communities," Bannister said. The best way to meet that challenge is through versions of the teamwork model created at Timberline, she added. "They have proven that a coordinated, integrated team can do so much more to know and support a patient than any one provider can do alone.
Down to the data
Crucially, CPC+ practices will also have access to claims data for their Medicare patients. That opens a previously closed window, giving them insight into their patients' care outside the practice.
"For the first time, we will receive information about the individuals we have responsibility for prior to a contract going into effect," said UCHealth's chief population health officer, Jean Haynes. "That means we can truly take accountability for their care."
It's vital, however, that CPC+ practices find ways to focus on the specific populations they serve, Haynes said. Whatever patient-care strategies a practice develops, they must not stop at the door of the clinic, she added. Providers of behavioral health, skilled nursing, home health care and others must be involved in caring for each patient.
"We must share vital information with all providers who care for our patients so that we all understand the plan of care and avoid duplication of services," she said. "Without that commitment and alignment, we can't provide the care and outcomes for patients we want."
Pulling levers
While the launch of UCHealth Integrated Network promises to be an important milestone for the organization, CPC and CPC+ are not isolated initiatives, Baumgart noted. The practices that are part of CPC+ can, for example, participate in CMS's Medicare Shared Savings Program, which also uses quality and cost measures to evaluate and improve a practice's performance.
UCHealth Integrated Network was approved to participate in a Track 3 MSSP program starting Jan. 1. This allows the network to access claims data for the beneficiaries assigned to its practices. Track 3 also gives the network the opportunity to receive a greater share of savings if it manages the cost of the care for its beneficiaries efficiently. However, the network also accepts a higher level of financial risk for its assigned patient population.
In addition, Baumgart said, the Medicare Shared Savings Program and CPC+ dovetail with the Medicare Access and CHIP Reauthorization Act of 2015 (MACRA), which launched Jan. 1. MACRA aims to tie clinician reimbursement to performance in four key areas of care that also align with the move to a new kind of health care system: cost, quality, use of electronic health records, and clinical practice improvement (read care management and coordination).
While it's easy to flounder in this alphabet soup, the programs share a fundamental goal, Baumgart said. "MACRA, Medicare Shared Savings, and CPC+ are all part of a movement to create more value in the way we deliver health care," he said. "There are different levers we can pull to move in that direction."
UCHealth Integrated Network is one of those levers, Baumgart said. With roughly 40 primary care practices connected to UCHealth's hospitals, specialists and other providers, UCHealth aims to strengthen its negotiating position with insurers eager to manage the cost of care.
"We think we can go to insurers and offer to share with them our knowledge and resources," Baumgart said. That, in turn, promises to bring more covered lives into the UCHealth network, thereby broadening the possibilities of developing new ways to coordinate care – "practice transformation," as he calls it, such as expanding the role of medical assistants in patient care to free up clinical time for physicians and advanced practice providers.
Information, please
That effort requires strong tools for data collection, management and analysis, which points to another UCHealth strength: the maturing Epic electronic health record. In Baumgart's view, the EHR helps practices to manage larger numbers of patients more efficiently, not only by improving the ability to mine data for patients with conditions like diabetes and hypertension and use it to manage their care, but also by helping providers and staff standardize workflows, training, and documentation.
That's a key to the care management that CPC+ and other reform programs emphasize – and are willing to pay for in the hope that they'll see returns in efficiency and improved health for patients – not to mention a tighter lid on costs, Baumgart said.
The upcoming launch of the network is not an end, Haynes said, but rather a beginning.
"We have a strong foundation of capability and infrastructure as we begin our work with Medicare Shared Savings and CPC+," she said. "It is important for people to realize that 2017 is a building year in a five-year program. We are willing to take the long journey of continuous improvement of our care-delivery model with a commitment to improved clinical integration."