Even as a busy person or overscheduled business executive, you can take good care of yourself—with the help of the Executive Health Program (EHP) at UCHealth, available to anyone in the Denver metro or Rocky Mountain region.
Take a half-day for health
Eliminate the delays and stresses of a typical visit to the doctor. At UCHealth, your convenience and comfort are paramount. From valet parking service at your arrival to extensive physician consultation while reviewing your same-day test results, we're here to help make the most of your time.
Our CARE team schedules all appointments related to your EHP visit. We locate your medical records and arrange any necessary pre-exam discussions. A personal coordinator accompanies you throughout your visit so you're always in the right place at the right time.
Enjoy executive amenities
You'll also appreciate our well-appointed setting and luxurious environment at the top of the Anschutz Inpatient Pavilion at University of Colorado Hospital.
During your visit, you have access to business amenities such as high-speed wireless Internet, telephones, newspapers, and more, which let you keep in touch with your office or home.
Once blood tests are complete, you can enjoy a delicious continental breakfast.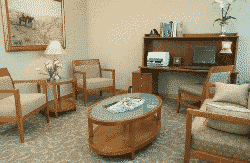 Start by 7 a.m. and finish by noon
We know your schedule is already packed. That's why we typically start your EHP physical examination—personalized for your specific health needs or your corporate wellness package—by 7 a.m., which lets you wrap up around noon.
You also receive diagnostic testing in multiple specialties. Optional tests can be selected at additional cost with your approval and your doctor's recommendation. You may request consultation for:
Custom earplug fitting
Hearing aids
Hereditary cancer screening
LASIK eye surgery
Plastic surgery
Sleep disorders
Review the most frequently asked questions about our Executive Health Program and learn more about the medical professionals on our EHP Team.

Get started today
Why wait? Put an executive health break on your calendar now. Call 720-848-2370 and ask about scheduling an appointment.