NICU Reunion at Poudre Valley Hospital on August 25!    >> Details to come
Caring for your premature or critically-ill baby closer to home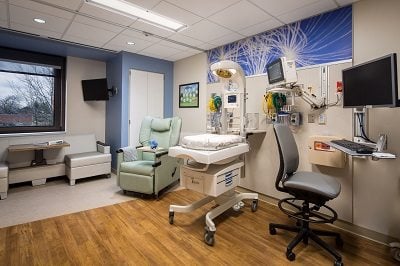 We understand the stresses that come with the birth of a baby who needs special care. We recognize that you and your family are your baby's main source of strength and support. Our philosophy of family-centered care nurtures those strong bonds between infants and their families that begin before birth. Our goal is to partner with you to achieve the best possible outcomes for your baby.
The neonatal ICU
Our NICU team includes highly specialized physicians and nurses who are trained to take care of these tiny newborns – and their parents, too!
We offer many services to the parents of babies in the NICU. We have certified lactation specialists to help you with breastfeeding and many other specialists that can answer any questions about your baby's care. If your baby is going to be a patient in the NICU for a while, we will provide you with hands-on education that will help you care for your baby.
Our intensive care unit staff routinely cares for babies born from 27 to 44 weeks gestation (26 weeks on a case-by-case basis) as well as those with respiratory problems, infections, low blood sugar and jaundice. To provide this high level of care, the NICU has state-of-the-art equipment to help your baby.
Features
Poudre Valley Hospital NICU features and capabilities
Highest level NICU between the Denver metro area and Rapid City, SD
Routinely cares for critically ill babies born at 27 to 44 weeks (26 weeks on a case-by-case basis)
Will take readmissions up to an adjusted gestational age of 44 weeks
24/7 neonatologists and neonatal nurse practitioners
State-of-the-art facility and equipment include high-frequency ventilation, nitric oxide and hypothermia therapy
Private rooms
Sleep sofa for parents who wish to stay overnight in their baby's room
Family support spaces
Family-centered care
Specialty trained nurses
Certified lactation specialists to help with breastfeeding
State-of-the-art facility and equipment
Provides care closer to home
Baby-friendly hospital
OB critical care transport
Our specialties include
Neonatology
Maternal-fetal medicine
Neonatal nurse practitioners
Pediatric ophthalmology
Pediatric anesthesiology
Pediatric ENT
Pediatric orthopedics
Pediatric pharmacist
Dietitians
Radiology
More questions
Suze Ketchem, MSN, RNC-OB, CNS
Senior Director, Women and Children's Service Line
Poudre Valley Hospital | Medical Center of the Rockies
970-495-8295