UCHealth's metro Denver hospital, University of Colorado Hospital (UCH), is one of the premier academic research institutions in the country. We deliver quaternary (fourth level) care as a part of a consortium of teaching hospitals across the nation.
While UCH is a separate entity from the University of Colorado, we're part of the University of Colorado campus system, which operates under a total learning environment mission. We are directly linked to the graduate health sciences schools of the University of Colorado Denver through joint and clinical appointments.
Providing patient-centric education and cutting-edge research opportunities are important parts of our hospital mission. Our Magnet-designated hospital supports an environment where teaching and research activities are respected. Contributions from dedicated research professionals help us achieve excellence in patient care outcomes.
Allied Health Research is conducted within the philosophy and values articulated by the University of Colorado Hospital Evidence-Based Practice Council.
Research and Evidence-Based Practice Council Mission Statement
To provide education, mentorship, and leadership throughout the research process. We strive to perform research, disseminate findings and evaluate and improve our quality of patient care via evidence-based practice.
Magnet Hospital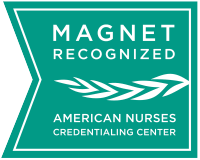 University of Colorado Hospital supports a teaching and research environment. In addition, being a Magnet Hospital affirms that we represent the "gold standard" for nursing care.