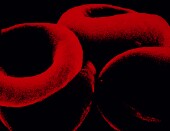 Blood cancers affect the blood, bone marrow, or the lymphatic system and include conditions such as leukemia, Hodgkin lymphoma, non-Hodgkin lymphoma, myelodysplasia, and myeloma.
At UCHealth facilities, a caring team of doctors and support professionals from many fields works together to develop the best plan of care for you, and they stay by your side from your initial appointment through treatment and aftercare.
Today, the most specialized and focused care teams like those found at University of Colorado Health facilities in Fort Collins, Greeley, Loveland, metro Denver, and Colorado Springs can treat and even cure many of these diseases. However, the intensive treatment can severely damage the bone marrow. To restore normal blood production after large doses of chemotherapy or radiation, our UCHealth specialists use blood and marrow stem cell transplantation.
Comprehensive and personalized care
When you choose UCHealth, you gain access to our integrated program for blood cancer and blood and marrow transplant, an approach you won't usually find at other cancer centers. It means you receive personalized, coordinated, and comprehensive care and you're able to work with the same familiar and trustworthy team of experts for as long as your treatment lasts. In addition, you benefit from the safety and comfort of our special facilities designed to protect your weakened immune system.