The Regional Neurosciences Center at Poudre Valley Hospital provides diagnosis and treatment of brain and spine disorders, including the treatment of stroke, Parkinson's disease and multiple sclerosis.
Our center features a 25-bed facility with cardiac and video monitoring for tracking patients. Additional services, such as social work and rehabilitation, are available and based on a patient's needs.
The Regional Neurosciences Center provides services to patients in northeastern Colorado, western Nebraska and southern Wyoming.
Stroke team
For rapid treatment of stroke victims, a stroke team assembles within 30 minutes of a stroke emergency, 24 hours a day. Members of this highly trained team include the neurologist on call and two nurses. Our stroke team follows nationally recognized best practices for stroke care from the American Stroke Association.
Emergency treatment of trauma
A trauma team is available 24 hours a day to provide a full array of ongoing, coordinated treatment to severely injured patients. A trauma case manager visits trauma patients and families regularly to help coordinate our services and answer questions.
Treatment for rural stroke patients
For patients who live outside the Fort Collins area, neurologists at Poudre Valley Hospital use telehealth video conferencing technology to consult with physicians in rural hospitals, assess CT scan results, and recommend treatment. This service is available 24 hours a day in your home community and in the event of a stroke saves precious time, the key factor in treating stroke patients successfully with the right of amount of clot-dissolving medicines.

Awards and recognition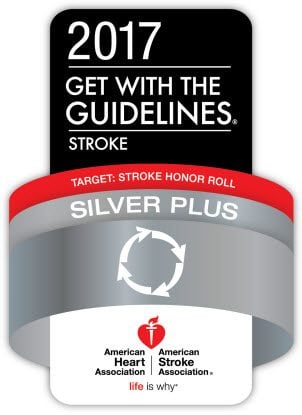 The American Heart Association/American Stroke Association recognizes this hospital for achieving 85% or higher compliance with all Get With the Guidelines® Stroke Achievement Measures and 75% or higher compliance with five or more Get With the Guidelines Stroke Quality Measures for one calendar year and achieving Time to Thrombolytic Therapy ≤60 minutes 50% or more of applicable acute ischemic stroke patients to improve quality of patient care and outcomes.